An HR Partner Customer Story...
Amy Sewell - Northern College of Acupuncture
"We now have the tools we need to empower our leaders to really manage their teams."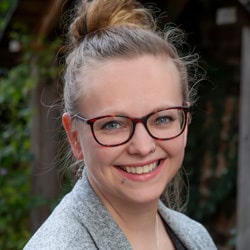 When Amy joined the Northern College of Acupuncture (NCA) about 2.5 years ago, she soon realized she had her work cut out for her. The college had been running for about 30 years and had grown quickly, without much focus being given to the people management side of the organization. As an independent teaching college, as well as a registered charity, NCA had expanded to educate acupuncturists, practitioners of Chinese herbal medicine, nutrition practitioners and complementary therapists. They also run a teaching clinic that offers acupuncture, Chinese herbal medicine and nutritional advice to the local community.
Working in the role of College Services Manager, the Human Resources function is only a small part of Amy's role, but very quickly after starting, Amy decided they needed an online HR software tool to host their employee records and help with onboarding and timesheets. She set about looking for a suitable solution but says the process was drawn out as she simply didn't have the time to look at the systems properly and then commit to getting it setup. In the end, it was when she had an extra resource on the team - a young apprentice - that she was able to task with helping to get started with HR Partner.
"We were looking at different HR systems for a while but didn't have the time to get one implemented. In the end, it wasn't as time consuming as I'd thought and HR Partner is user-friendly enough for me to leave it in the hands of my assistant to get the bulk of the setting up done. And now, it saves us a huge amount of time each week."
At the time, the NCA had about 25 employees, plus lots of people on self-employed contracts. In fact, it was very difficult to get an idea of how many people actually worked on the team as the information was not in one place. Now, after using HR Partner for just over one year, Amy says things are far better organized.
"We now have processes for our contractors and more visibility across what's actually happening. I feel that there's a level of professionalism that we were missing before, as well as proper governance and controls in place."
The Northern College of Acupuncture uses HR Partner for team member records, timesheets, onboarding new employees, a document library, e-Signatures and recruiting. One thing they particularly value is the leave management system.
"Previously, we were very heavy on emails and spreadsheets. People were coming to me as they didn't know their leave balances or to ask whether they could take holidays at a certain time. We've now eliminated all of that with a proper process that gives everyone the information they need."
Amy went on to explain that before implementing HR Partner, a lack of information meant that the line managers and leaders couldn't properly manage their teams. "Previously our managers just didn't have access to the staff files, as they were only available to HR. We're now changing that culture and everyone is learning these tasks aren't the responsibility of HR. This is a people management responsibility for all of our leaders to take on."
Amy is now really enjoying having the bandwidth to do more impactful things with HR and she is studying for her CIPD qualification.
"We've recently started using the recruitment function in HR Partner and are changing the culture from using direct emails for recruitment, to using the proper applicant management system that's included in the software. The integration with Indeed works brilliantly and it's streamlining this part of the process dramatically."
Amy is passionate about working in the charity sector but says that; "Even with non-profits, a level of professionalism is needed. It's great to have a relaxed and lovely culture, but there's still important paperwork and processes we need to follow. People spend a lot of their time at work and they need to feel supported with the right information. It's not good for organizations to be too laid back - that's only going to lead to employment tribunals! We need to look after our people and make sure we're doing the right thing."
Now that NCA is well into the process of lifting the standards of their HR processes and documentation, Amy's advice to others that might be in a similar position is…
"If you want to work more efficiently and save time, you definitely need a HR system. It's a much better experience for staff and it relieves the burden from HR while empowering your line managers and employees. Plus, it's really boring to be entering leave requests on spreadsheets all the time so let the system do it for you so that you can get on with more interesting work!"
NCA now has over 100 team members, made up of a mixture of employees and self-employed contractors. Amy believes that they are well on their way to her vision of having a streamlined HR function which offers a great experience for new hires and team members, and says "I no longer feel like we're chasing our tails".