Employee Records
HR Partner makes record keeping a breeze. Finally, everything is in one secure place.
All Your Employee Records in One, Secure Place
One employee directory, that your team can access from wherever they're working.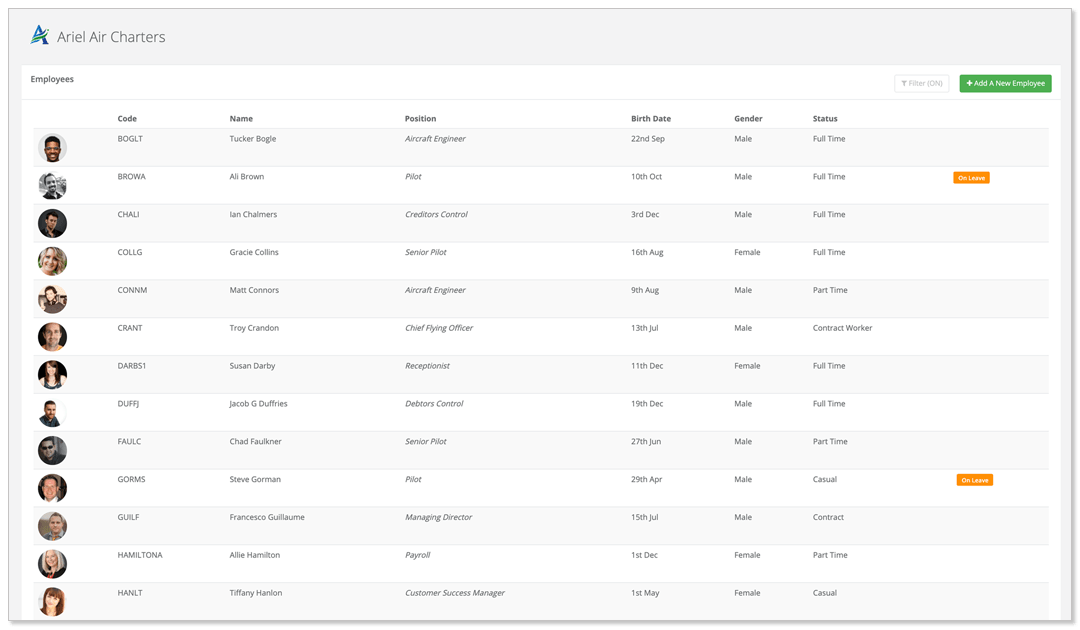 Core Employee Records
Store all the employee information you need to stay on top of your HR.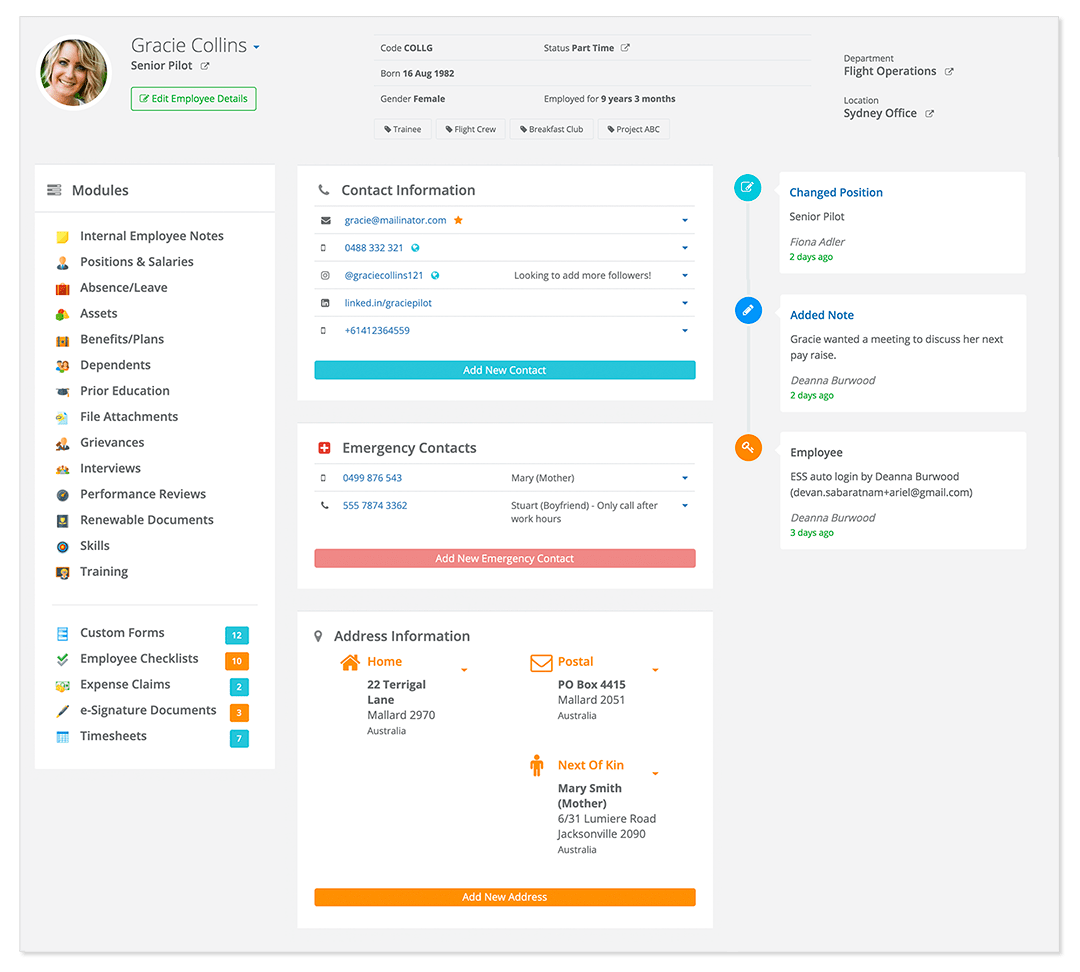 Almost unlimited contact information
Emergency contact information
Position and salary history
History of absences & time off
Track company assets on loan to employees
Benefits and plans allocated to employees
Dependents
Prior education
File attachments (contracts, certificates, etc)
Grievances & complaints
Interviews / discussions
Performance reviews
Renewable documents (eg passports, licences, etc)
Skills matrix
Training history
Free form notes
Employee Leave & Absence Records
Get the complete view of each employee's time off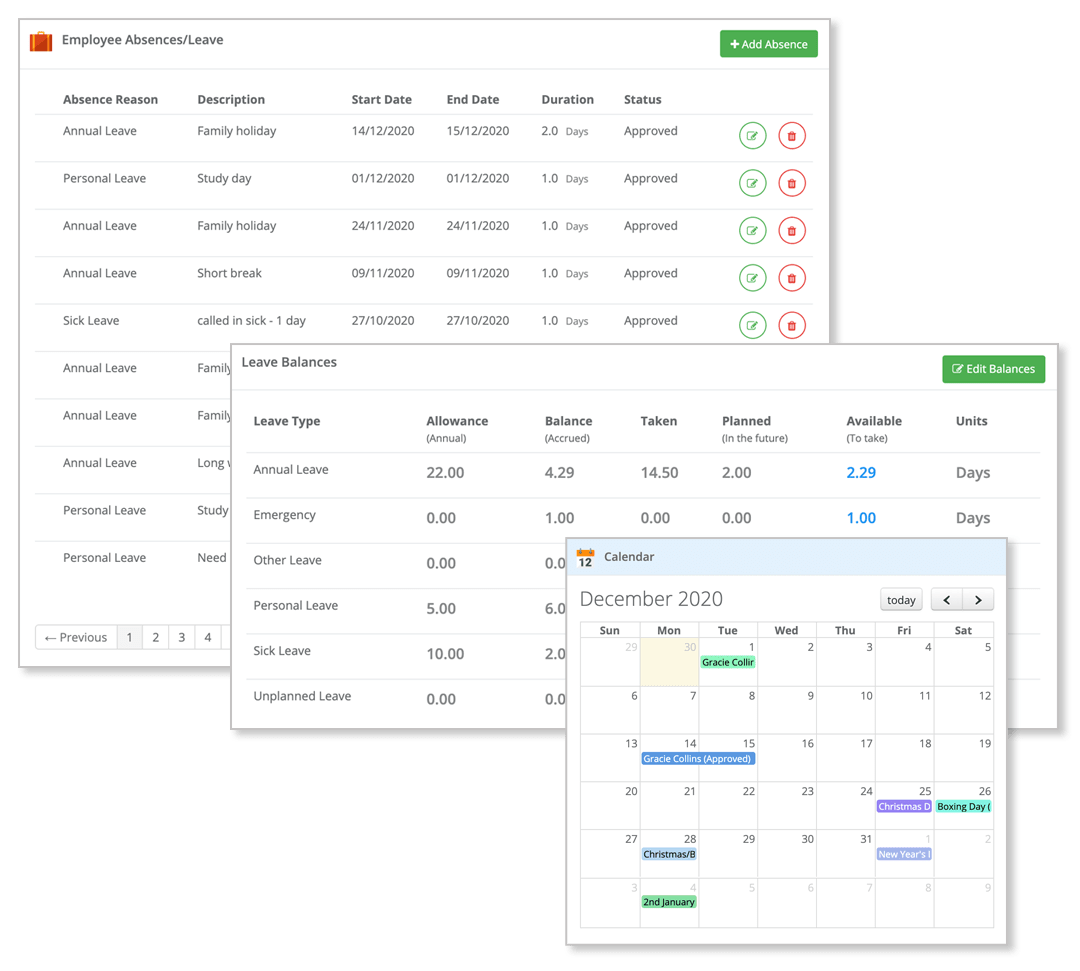 See a complete history of each employee's leave
Access leave balances quickly
A visual "heatmap" shows their time off by day of the week
Use the calendar view for another way to analyze your employees' time off
Employee Positions & Salaries
Track your employees as they progress over time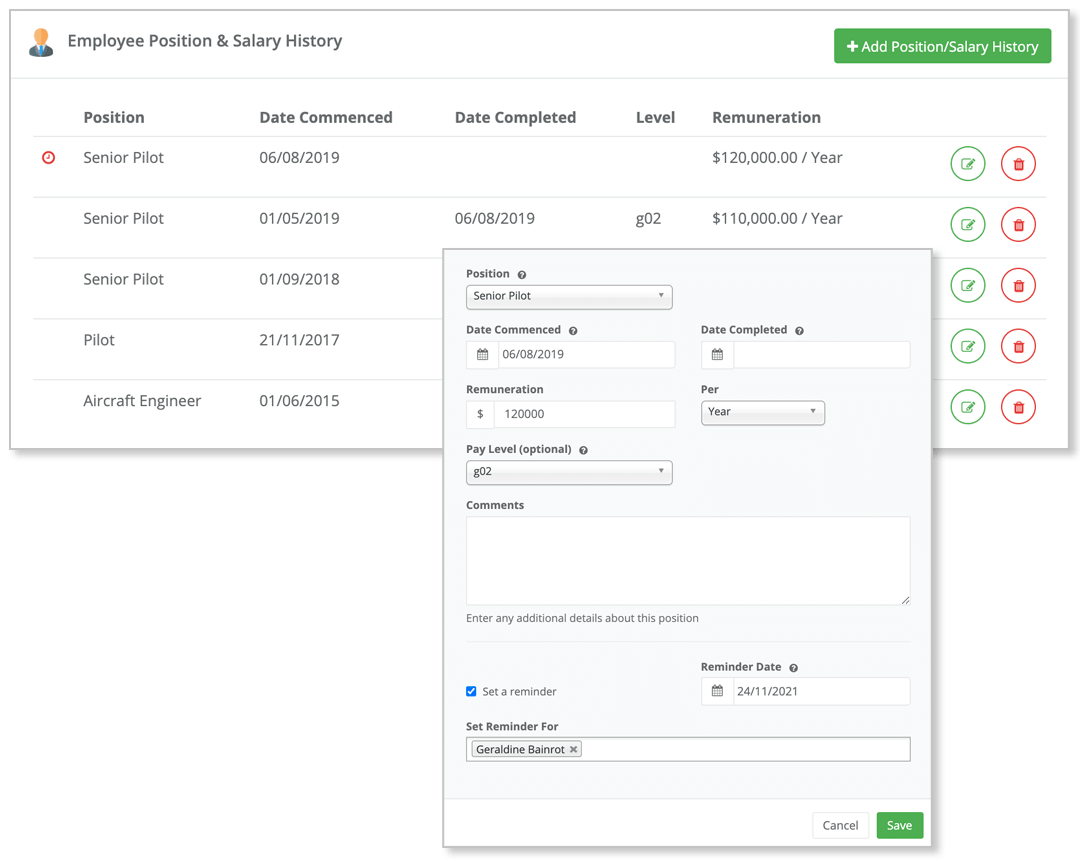 Control who has access to sensitive remuneration data
Upload contracts or position descriptions alongside these records
No need to go hunting for documents
Ready to try HR Partner?
SPECIAL OFFER: Start now to get 50% off for 6 months!
But there are still more employee records features…
Employee Performance Reviews
Use HR Partner as the platform to plan and track employee performance reviews

Plan performance reviews ahead of time with reminders for managers
Keep a summary of the review in the record
Upload the actual performance review to keep on file
Control who can access performance reviews and other sensitive data
Internal Employee Notes
Keep track of all the informal discussions and notes for each employee.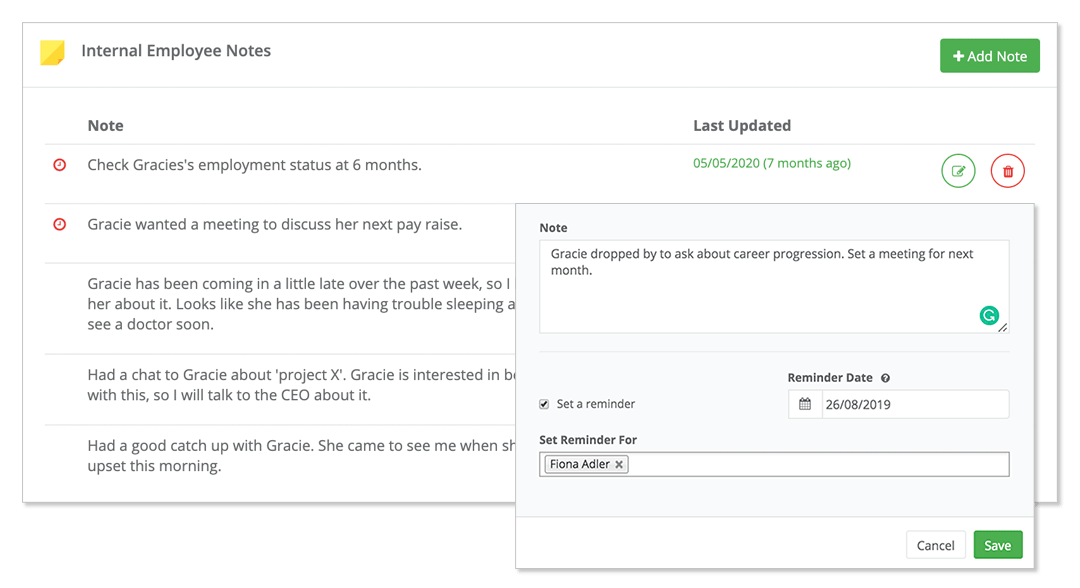 Include as many file attachments as you like
Set reminders so that nothing gets forgotten
Choose which users get access to which information
Assets on Loan to Employees
Use HR Partner to keep track of any assets you loan your employees.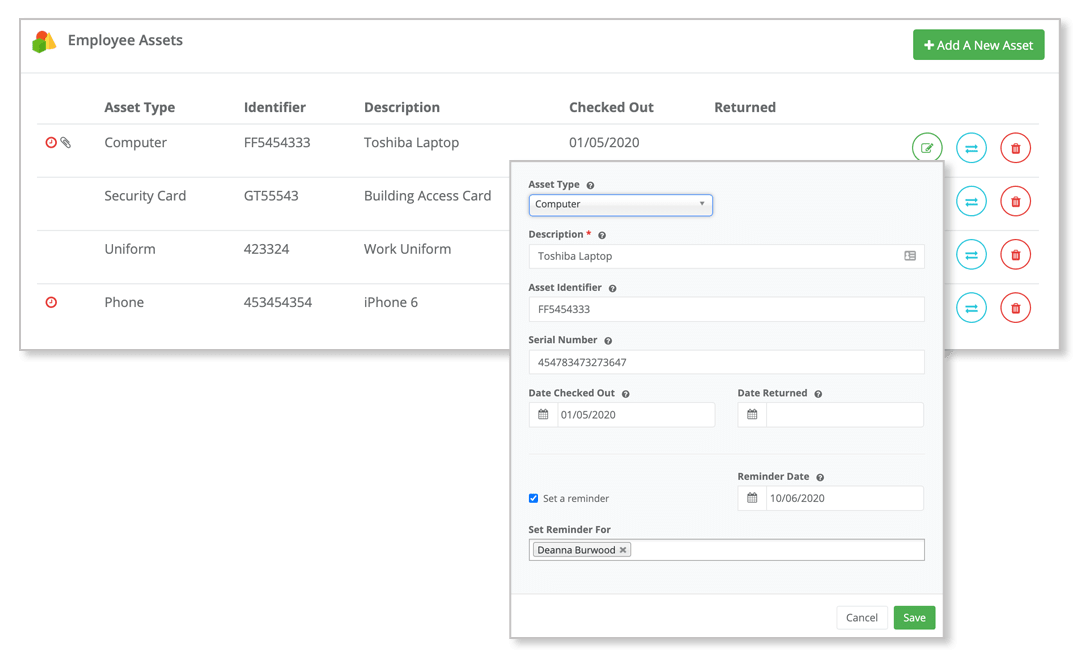 Track assets on loan such as phones, computers, uniforms, security cards, special equipment and more
Easily transfer assets to other employees
Set reminders if they need to be updated or retrieved at a certain date
Employee Benefits & Plans
Record any benefits your employees receive so that everything is in one place.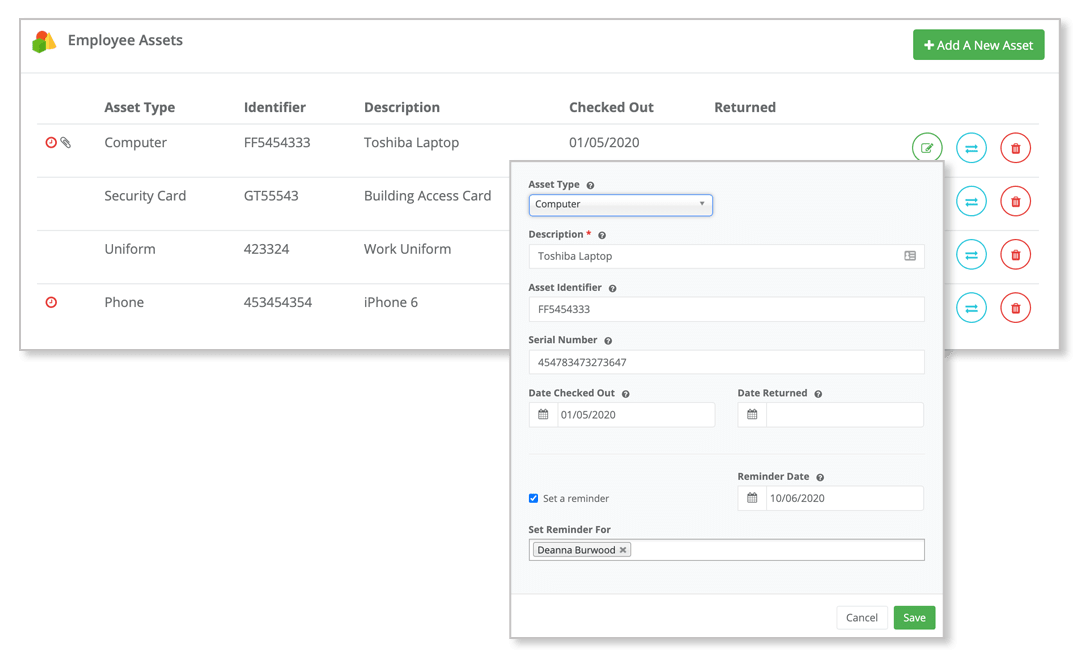 Benefits can include health care, insurance plans, vehicle allowances, stock bonus schemes, study allowances, technology spend allowances, or anything else your organization offers
Record the value of benefits employees receive
Set reminders to ensure benefits stay active
Customizable for your Organisation
HR Partner can be setup to suit your particular requirements…
Use custom fields to record additional specific information (text, dates, check boxes, etc).
You can also turn specific modules on and off – and control the permissions that your team has to view certain information.
HR Partner includes even more modules - in fact, too many to show them all here.
The best way to see them is to explore HR Partner for yourself with a free trial!
Start Now: Special Offer
START A FREE TRIAL IN TO GET 50% OFF FOR 6 MONTHS