Plus a Lot More!
Hundreds more features to streamline your HR processes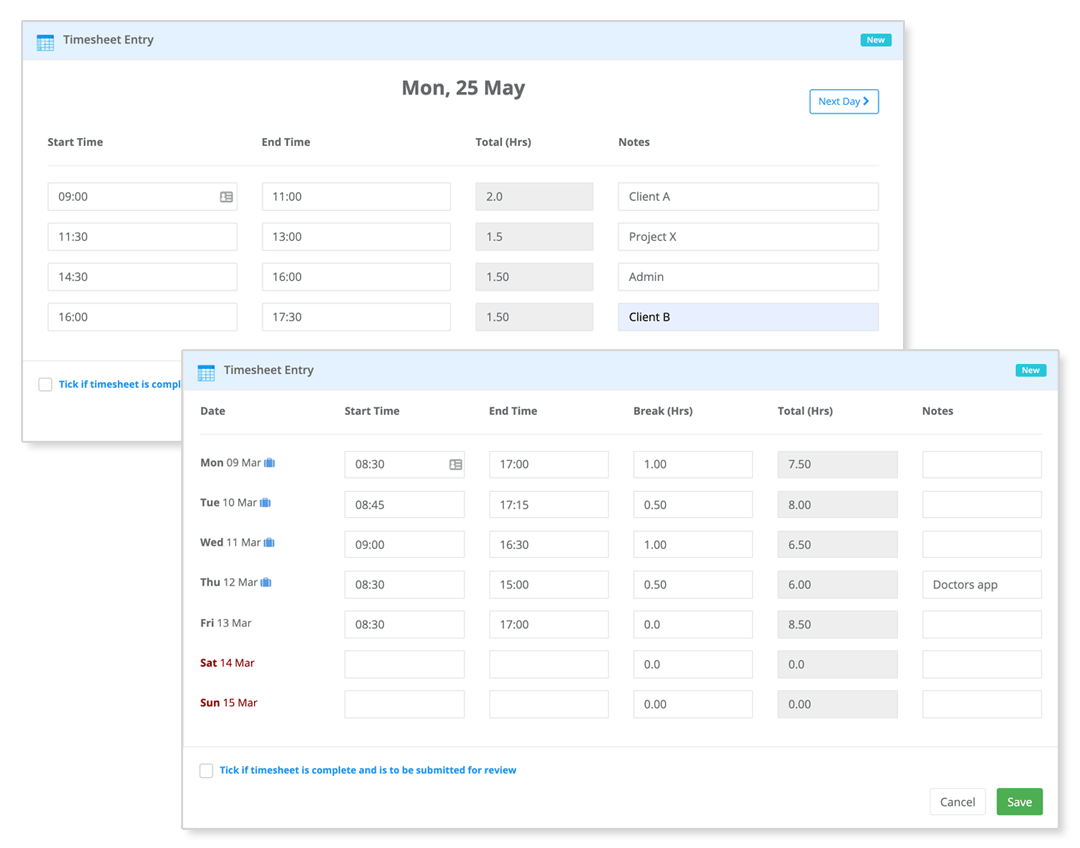 Choose from simple entry (number of hours only), single entry (start and stop times, with a break time), or multiple entry (with up to 6 start and stop sessions)
Set timesheets as weekly, 2-weekly or monthly
Employees can enter notes with their entries
Incorporates a timesheet approval process
Also allocate time to projects and activities for more granular tracking
Organizational Chart
Get a visual representation of your team structure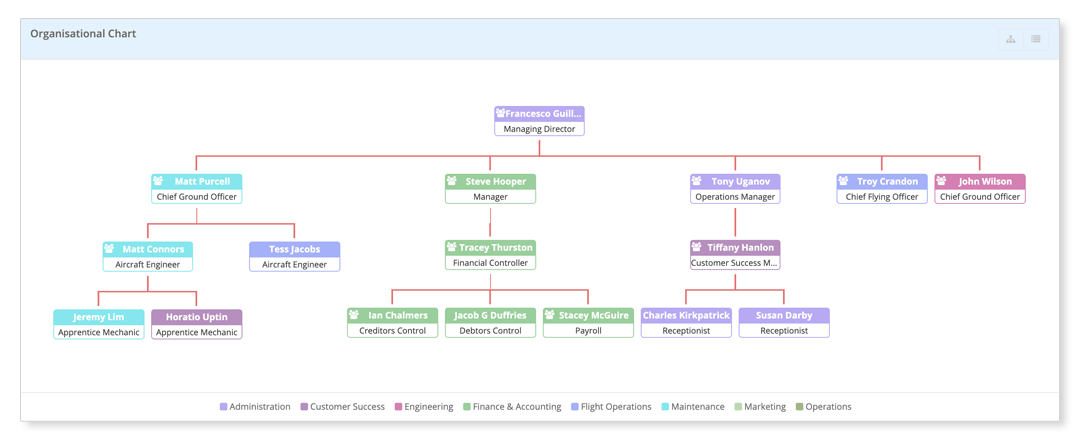 The organizational chart is automatically built and kept up-to-date based on who reports to who
You can expand and collapse the organizational chart to see different views and drill into specific areas
Each department is represented by a different color
Company Calendar
See a calendar view of everything HR related in your company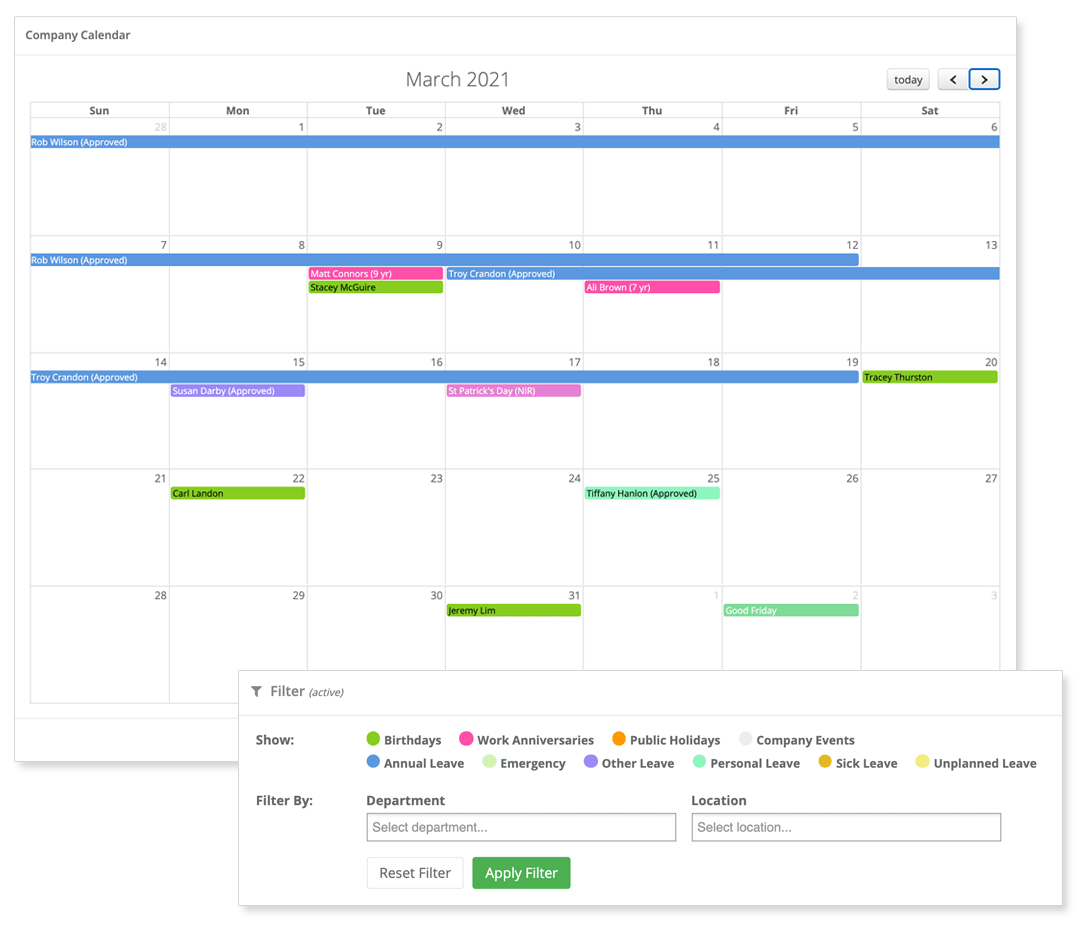 Custom Forms
Design your own forms to collect information form employees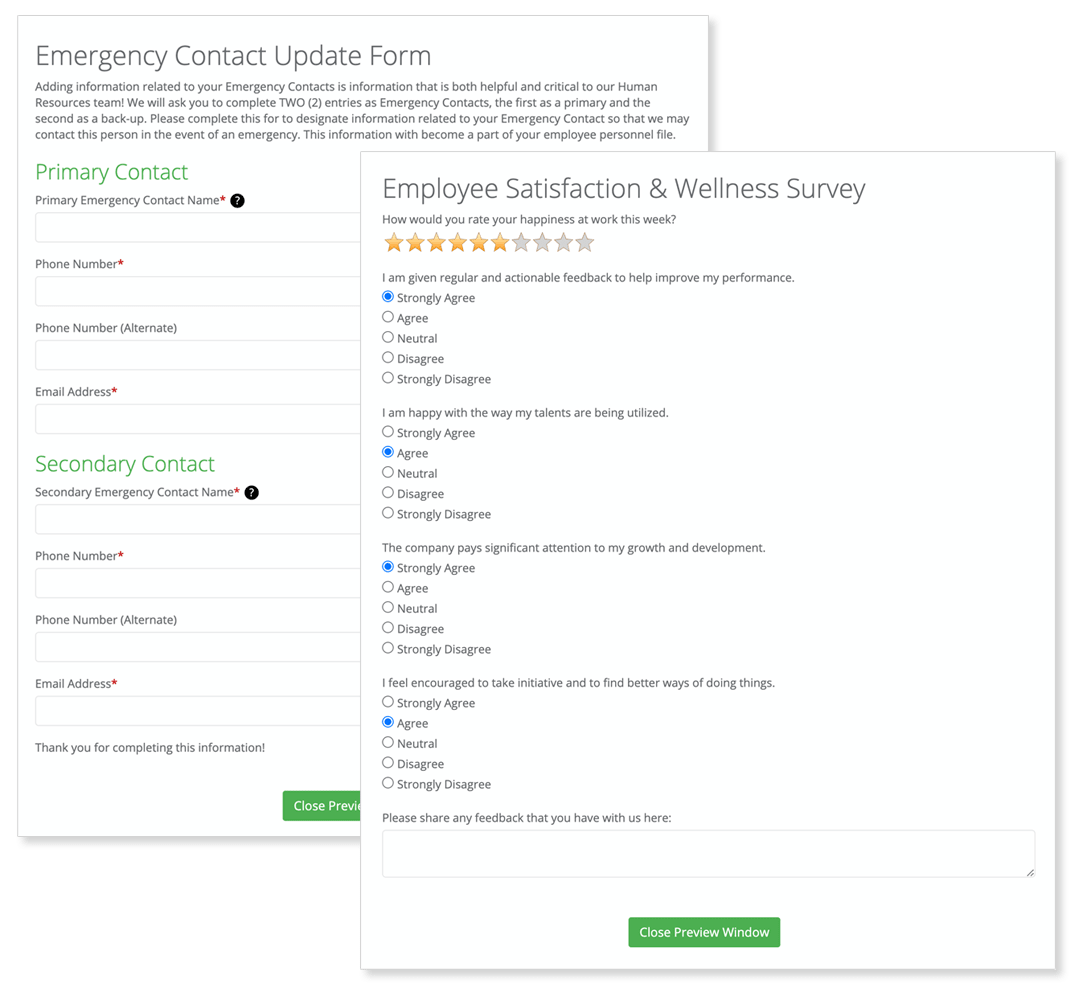 It's easy to design your own forms using the simple form editor
Forms can be made available through the Employee Portal for easy access whenever employees need them
You'll be notified of new form submissions and they're saved to the employee's record
You can also assign forms to specific employees
Forms can also be included as part of a checklist – for example you could collect a new employee's bank account details in an onboarding checklist
Ready to try HR Partner?
END-OF-YEAR OFFER: Start Now to get 50% off for 12 Months!
Document Library
Create a repository of the documents your team needs to access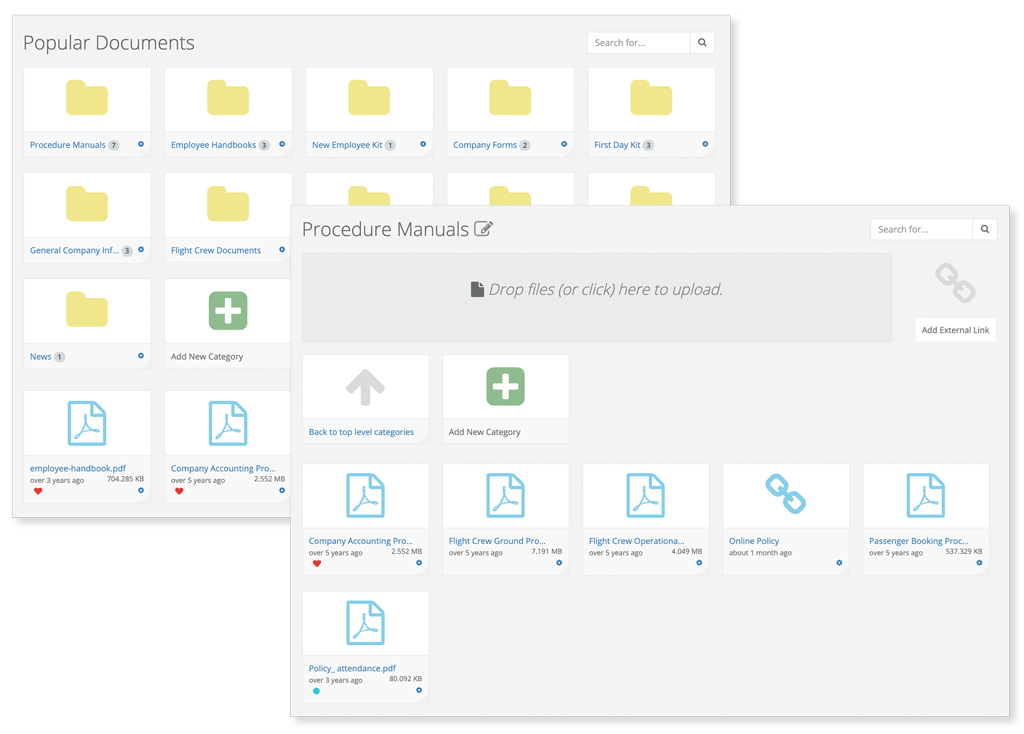 Give your employees access to all the files they need - upload them directly, or include links to files hosted elsewhere
Create categories to organize documents, and assign department based permissions if required
Admin users ensure the document library is kept up-to-date and employees can access the right files, whenever they need them
Team Communication
Use HR Partner to send emails or SMS messages to employees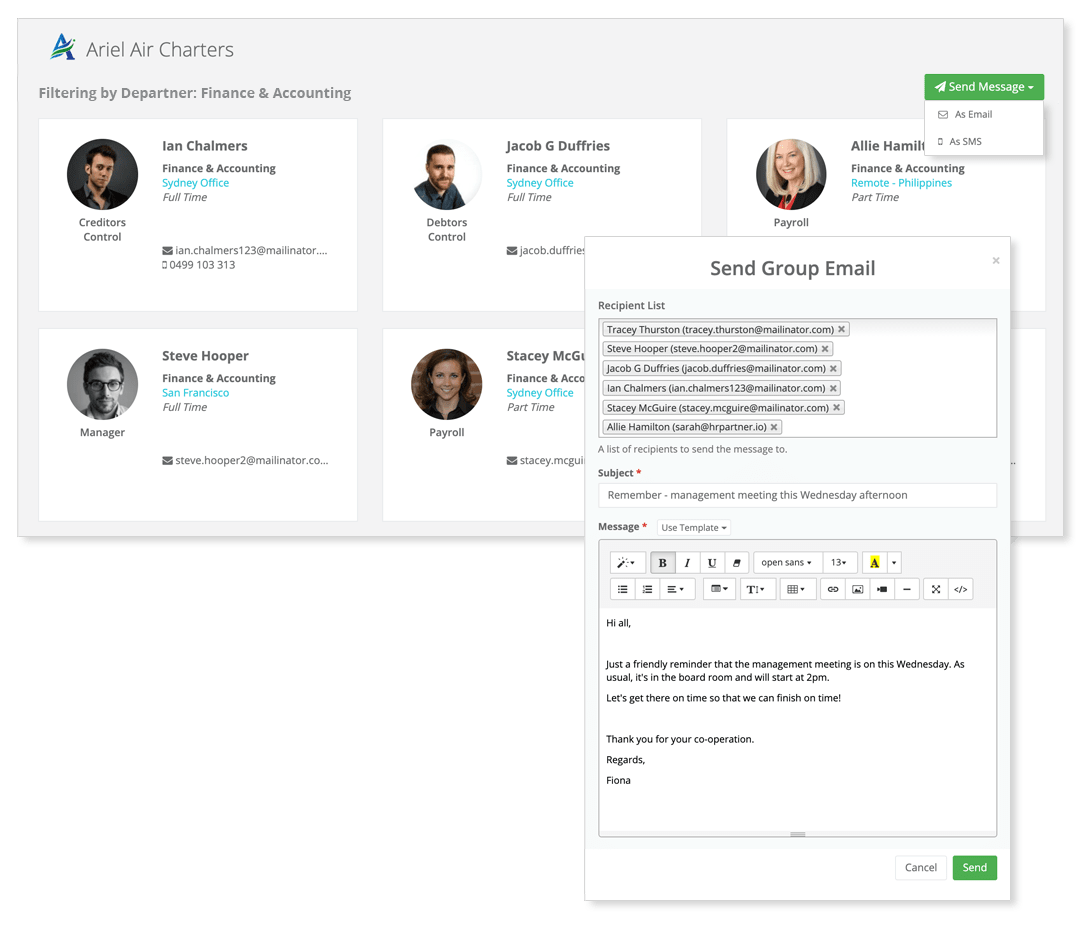 Filter employees by department, location, position or other dimensions
Use Tags to identify other groups of employees
Easily send either emails or SMS messages to groups of employees
Setup email templates to make efficient to resend repeating messages
HR Reports
Flexible reports on all of your HR data
Create reports on employee data, contact details, leave, expense claims, timesheets, and more
Save your favorite reports for future use
Create printable PDFs in one click
Export your data to CSV or JSON format for further analysis
News & Polls
Use HR Partner to communicate with your team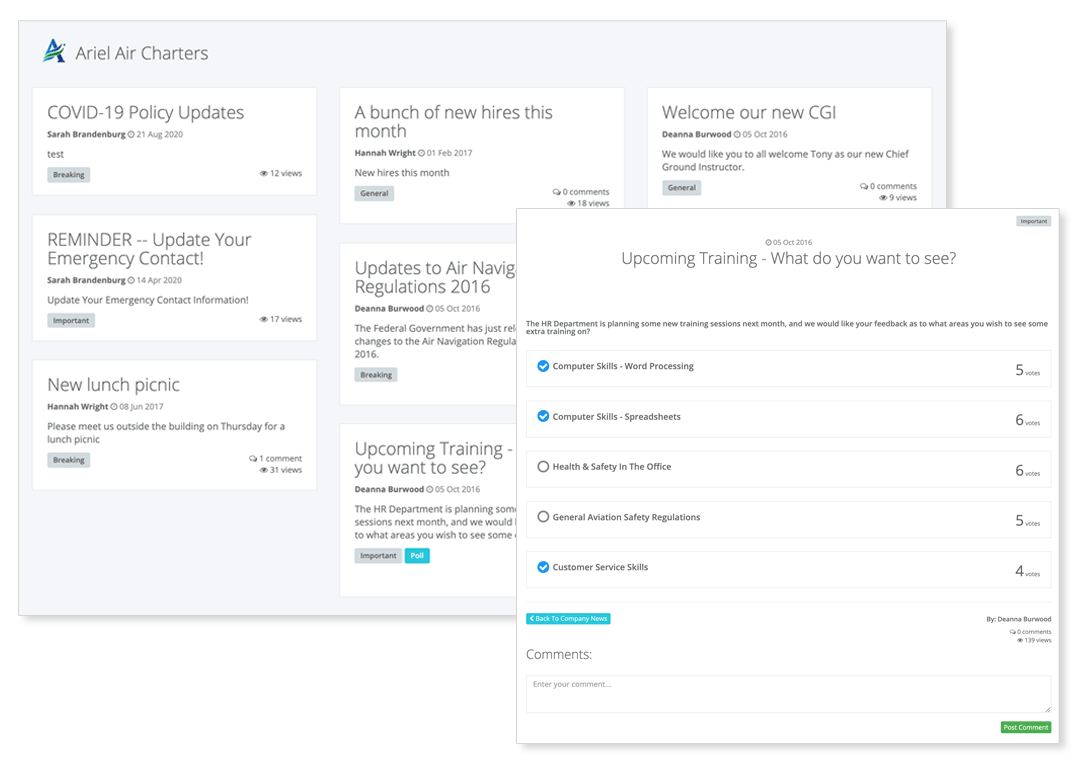 Send out communications to your entire team - with or without an email notification
Employees can comment on announcements and add reactions
Send out polls to quickly gauge employee opinions or votes
Employee Pinboard
Replicate the office noticeboard or fridge, but virtually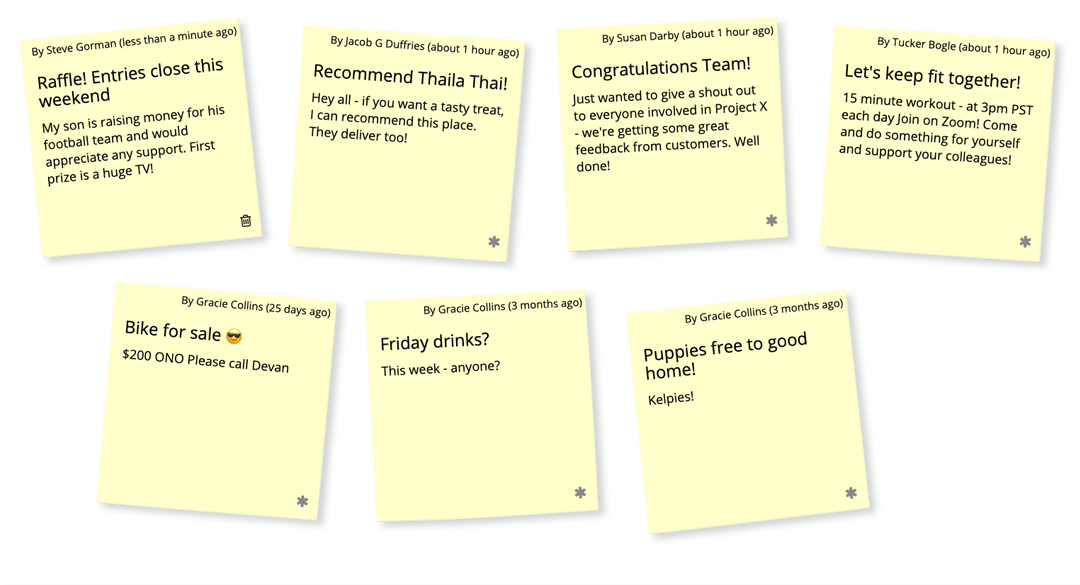 Allow employees to post messages which are visible to other employees
Helps foster team culture and engagement
Pins simply expire after a certain time
Flexible User Permissions
Setup user permissions to suit your company
You're in control of your user permissions with very granular controls
Restrict access by department, location, or type of information
Easy to Use
Feel good using your HR system!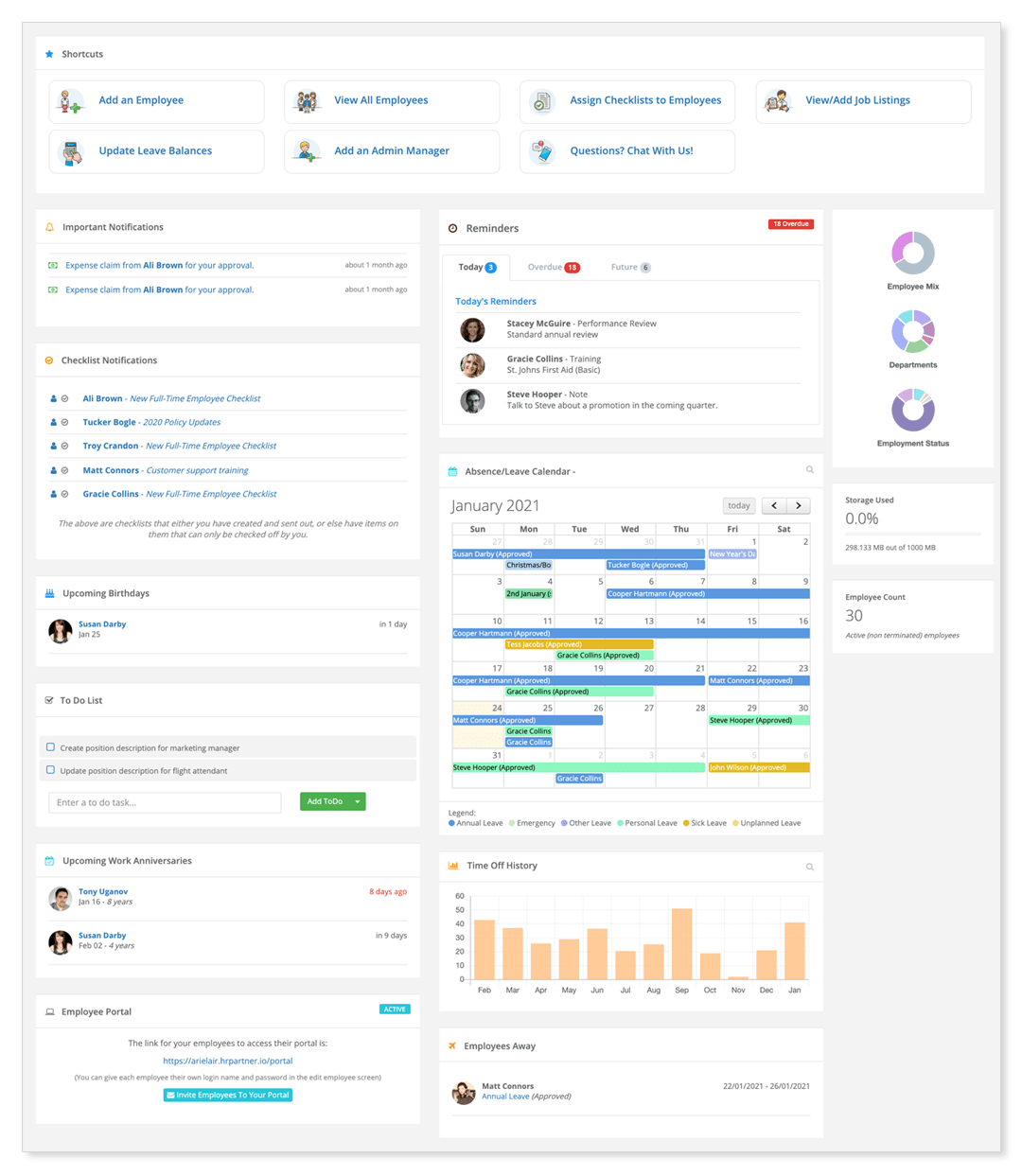 Friendly colors and easy to use design make It a pleasure to use HR Partner
This screen shows the main Admin Dashboard
Constantly evolving features and usability – all based on user feedback
See updates of our recent improvements here
Secure Storage
Your data security is in good hands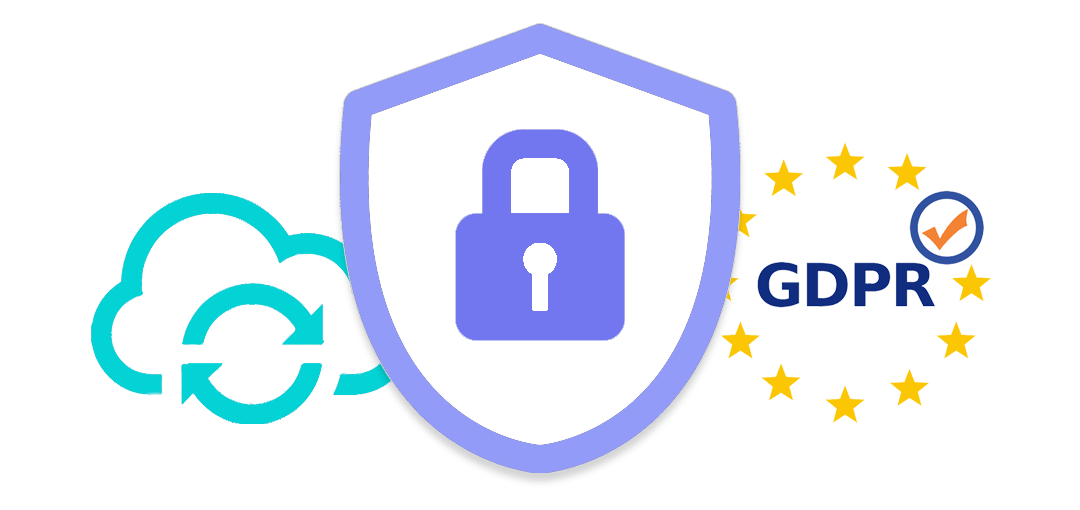 HR Partner user top of the line data storage infrastructure and processes to keep your data secure (see more details here)
HR Partner is fully GDPR compliant – a Data Processing Addendum can be provided on request
Backups are done daily for extra peace of mind
Request an export of your employee or recruiting data at any time
Support You Can Rely On
Rest easy knowing you'll have all the support you need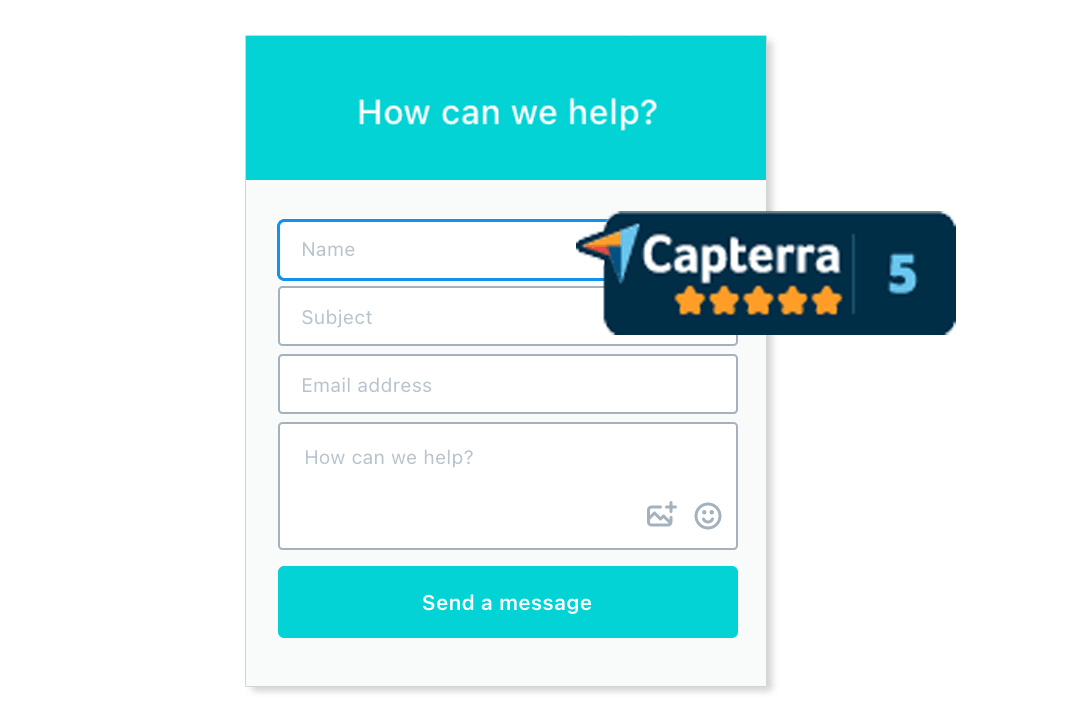 Our team is located around the globe to provide support, almost 24 hours a day
Extensive knowledge base with articles and tutorials to give you the information you need
Chat or email our support team at any time with extra questions
If needed, we can also provide extra support - see options here
END OF YEAR Special Offer!
EXCLUSIVE END-OF-YEAR OFFER
START IN TO GET 50% OFF FOR 12 MONTHS!!!