HR Partner Features…
Everything you need to manage your HR records and processes
A complete HR system to make your job easier
Here's what you get when you sign up to HR Partner…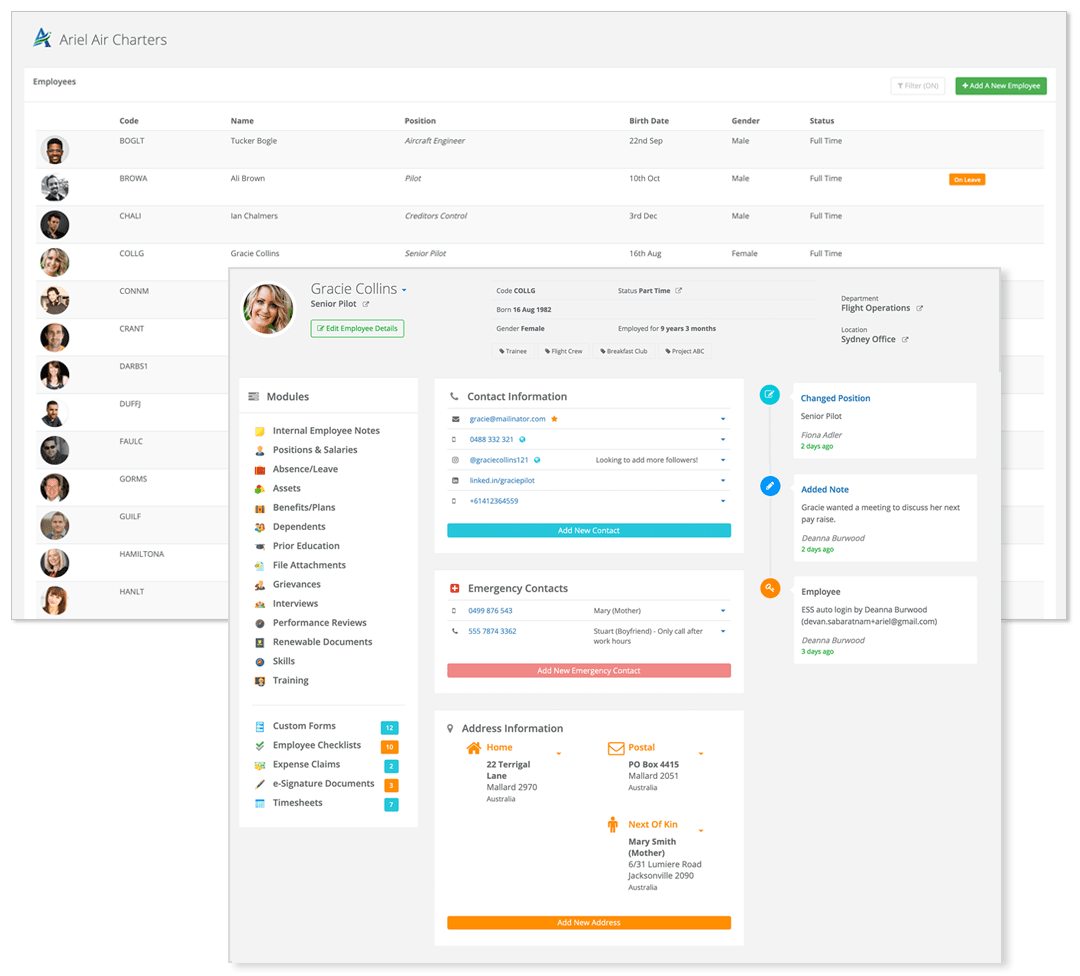 Our employee management software keeps your employee information in one safe, secure place.
Employee directory with contact details everyone can access
Confidential storage of positions and remuneration, performance reviews, discussions and grievances
Easily store records for employees working from home or located across multiple offices - even internationally
Plus, leave records, asset tracking, training, skills, and a lot more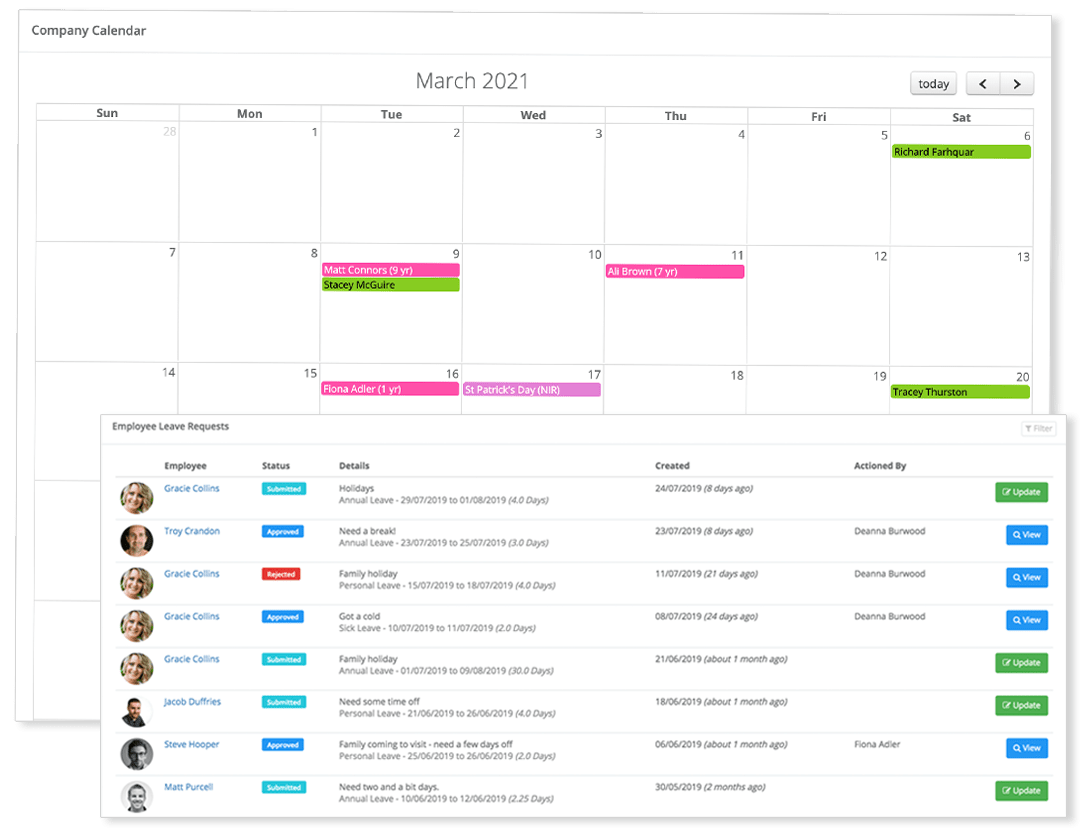 A leave management process that makes it easy for everyone.
Employees access their balances and apply for leave through the portal
Simple but flexible leave approvals (including multi-level approvals)
Use upfront or incremental leave accruals, resetting, waiting periods and more options
Check the leave calendar to see who is away when - show by location, department or the whole organization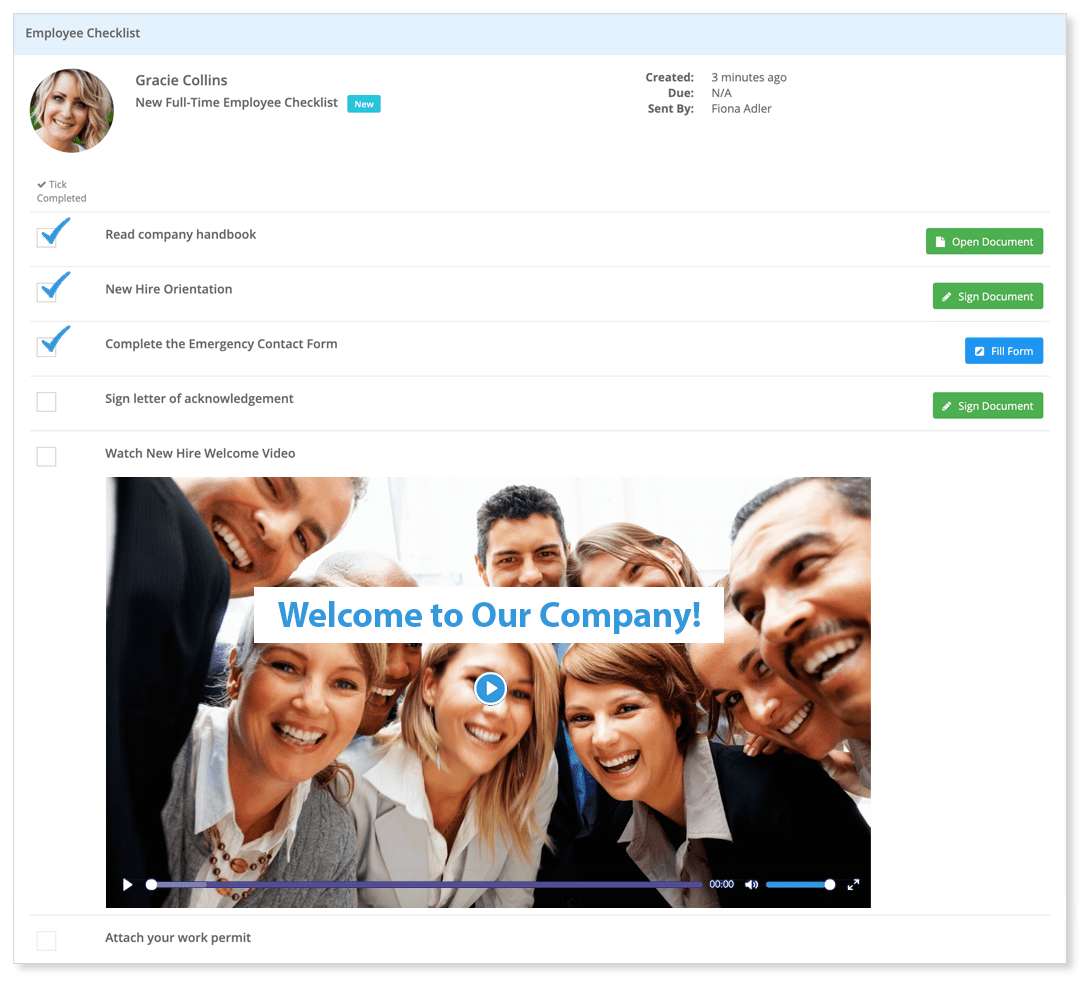 Set up checklists for onboarding, off-boarding, training or anything else - all within our employee management software.
Create a simple list of items for employees to check off (without an avalanche of paperwork!)
One place for employees to access materials to read, documents to sign, documents to upload, videos to watch, and more
Assign tasks to other team members (eg IT, HR, managers, etc)
Performance Reviews & Goals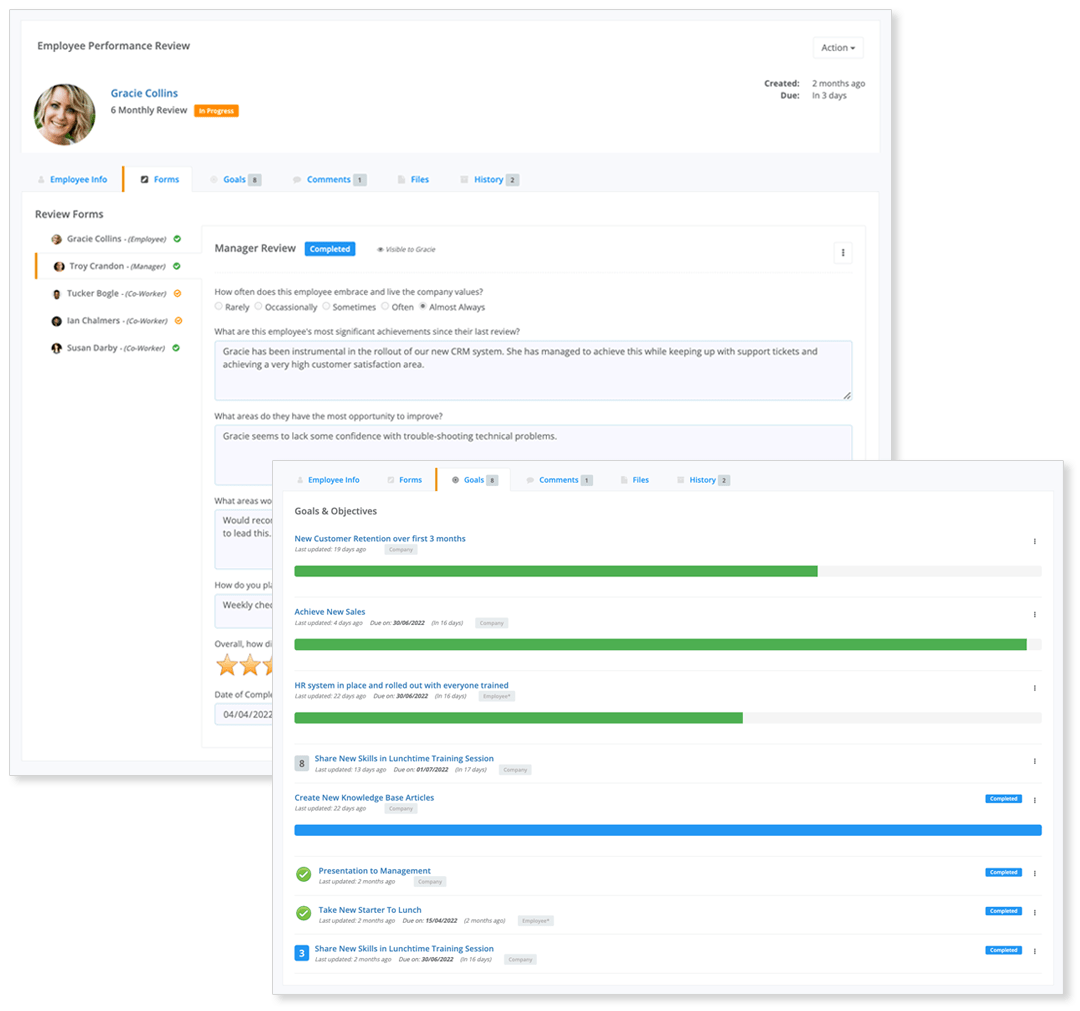 Seamless performance appraisals & goal tracking to keep everyone focussed.
Create your own reusable performance review forms to set up performance appraisals that are easy for everyone
Collect input from the employee, their manager, specific colleagues, or any combination of these
Watch employee performance shine with goals kept top of mind
Set up employee goals to keep everyone focussed - allow employees to add their own, or assign these in bulk
Goals can be used with Performance Reviews or completely separately
Recruitment & Applicant Tracking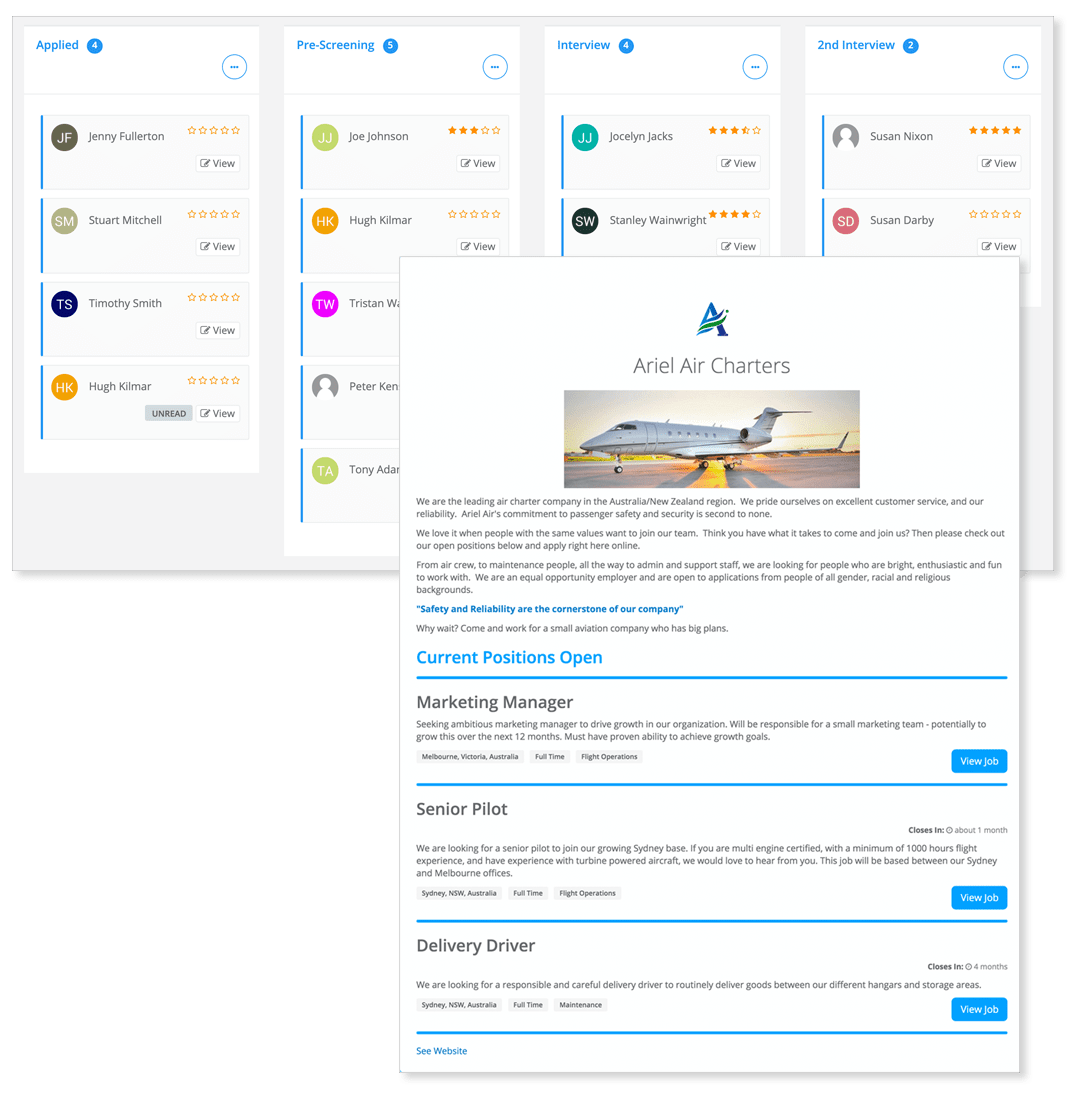 No need for a separate ATS, our employee management software includes recruitment tools that let you manage the flow of applicants.
Publish your jobs online through your own job portal (or push to job boards through our integrations)
Use a custom application form to speed up application screening
Use a Kanban style tracking system to easily move candidates across different stages of the application process
Bulk email candidates using your custom email templates
Invite other admins or even employees to be part of the selection panel
Use custom scorecards to evaluate your candidates
Ready to try HR Partner?
SPECIAL OFFER: Start now to get 50% off for 6 months!
Create custom forms to collect information from your team members.
Start from our library of templates, then customize to suit your company
It's easy to build your forms using the form designer
Make forms available for employees to complete via the Employee Portal, assign forms to specific employees, or include forms in checklists
Core employee data can be linked directly to the employee's records
Export your form data to a CSV file for further analysis in a spreadsheet (eg for surveys)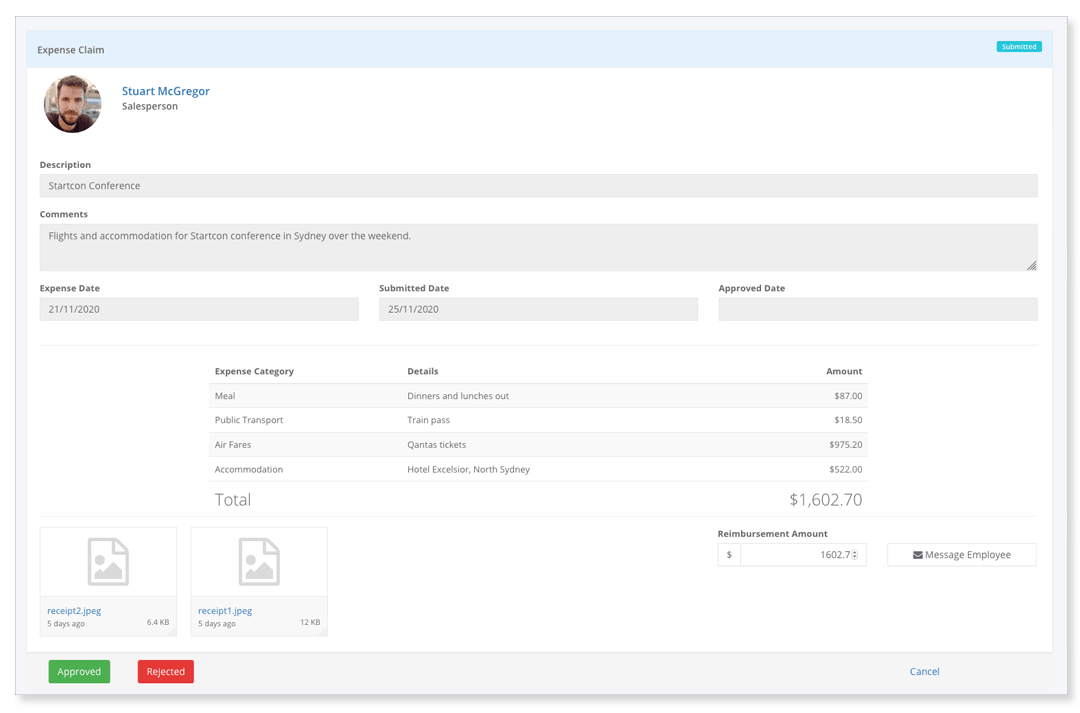 Do your employees need to submit expense claims for travel, meals, mileage, telephone costs or other items? It's included with HR Partner...
Employees can easily submit their expense claims through the employee portal, along with scanned receipts
Easy review and approval process for designated managers
Ability to define your own cost categories for better tracking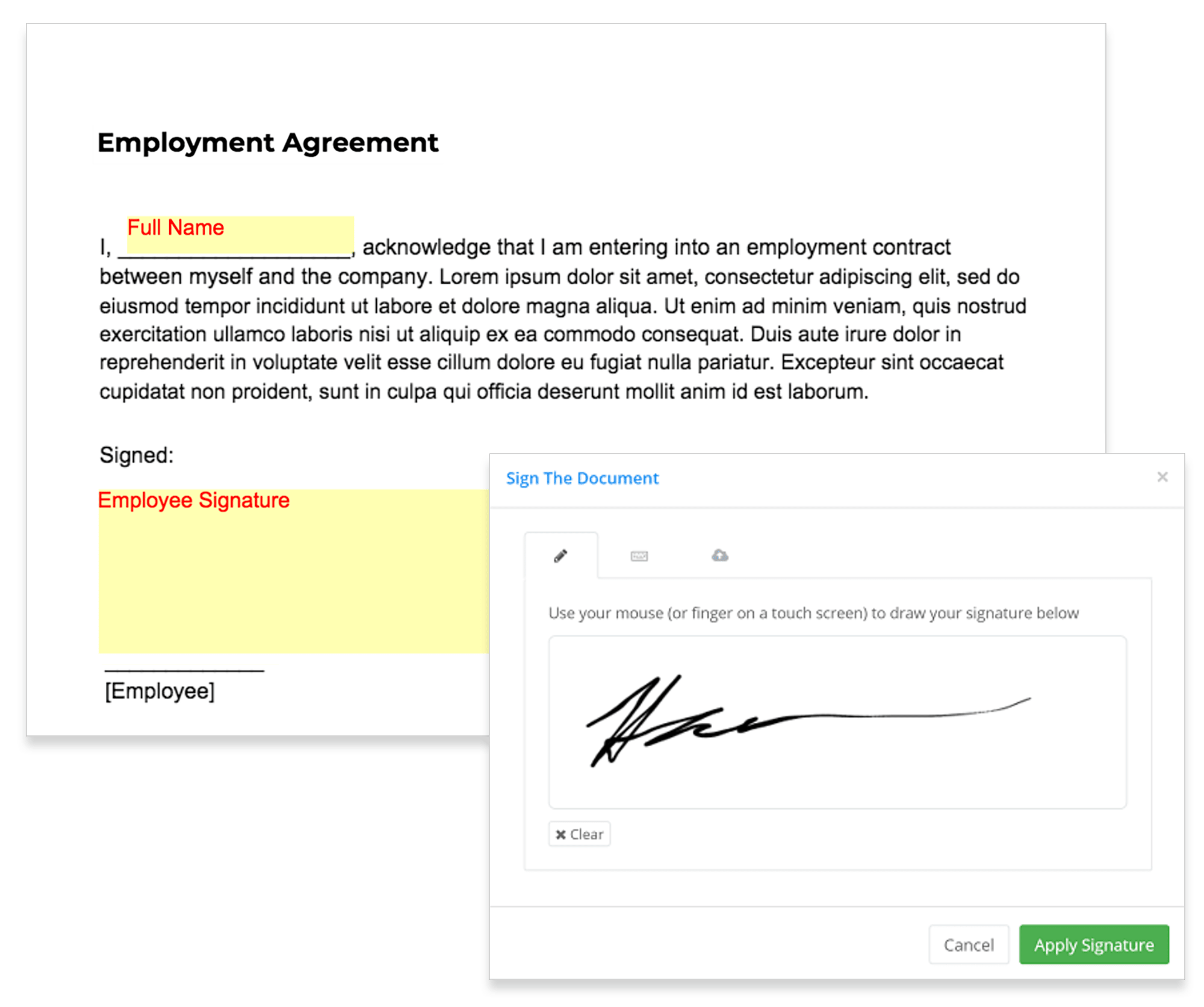 Integrated electronic signing to complete your HR processes - all within your employee management software.
Let your employees, job applicants, or even people outside your organization sign documents electronically
No need to print or scan - everything is online
Reduce paper usage, increase security, and streamline your processes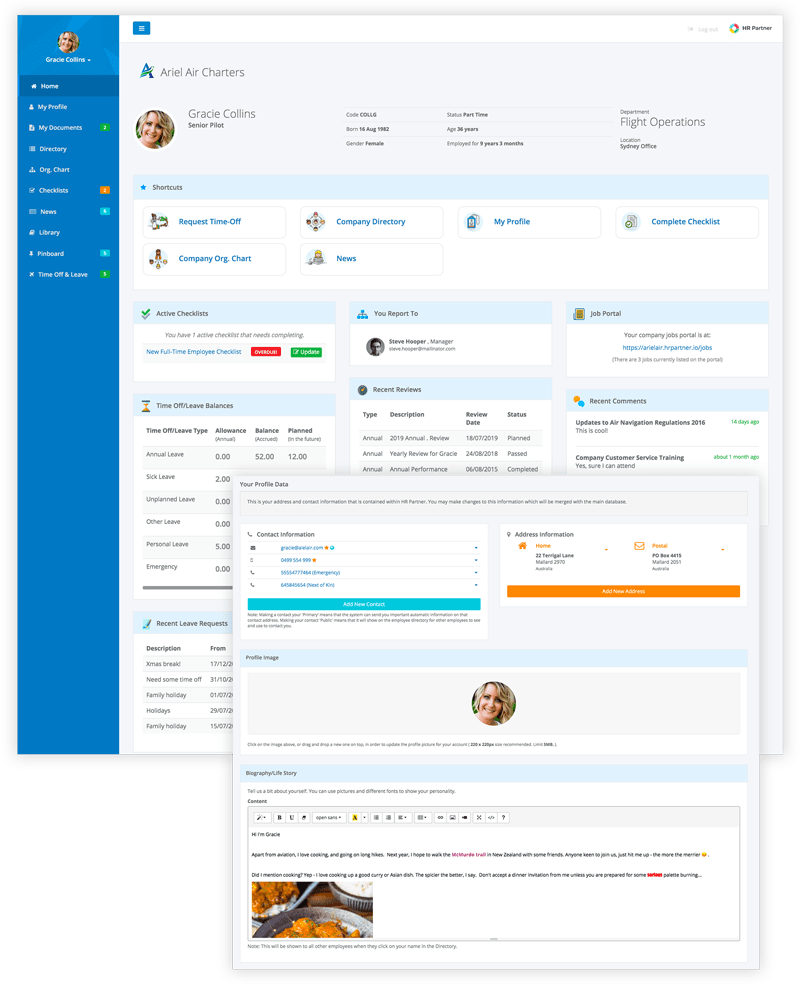 When you use HR Partner as your employee management software, your team members can access everything they need via the self-service portal.
The easiest way for employees to check their leave balances and submit leave requests
Access to the employee directory and org chart
Access the company document library, news and more
Allow employees to manage and update their own profile details (and receive notifications when they do)
Control what employees can see
Payroll & Other Integrations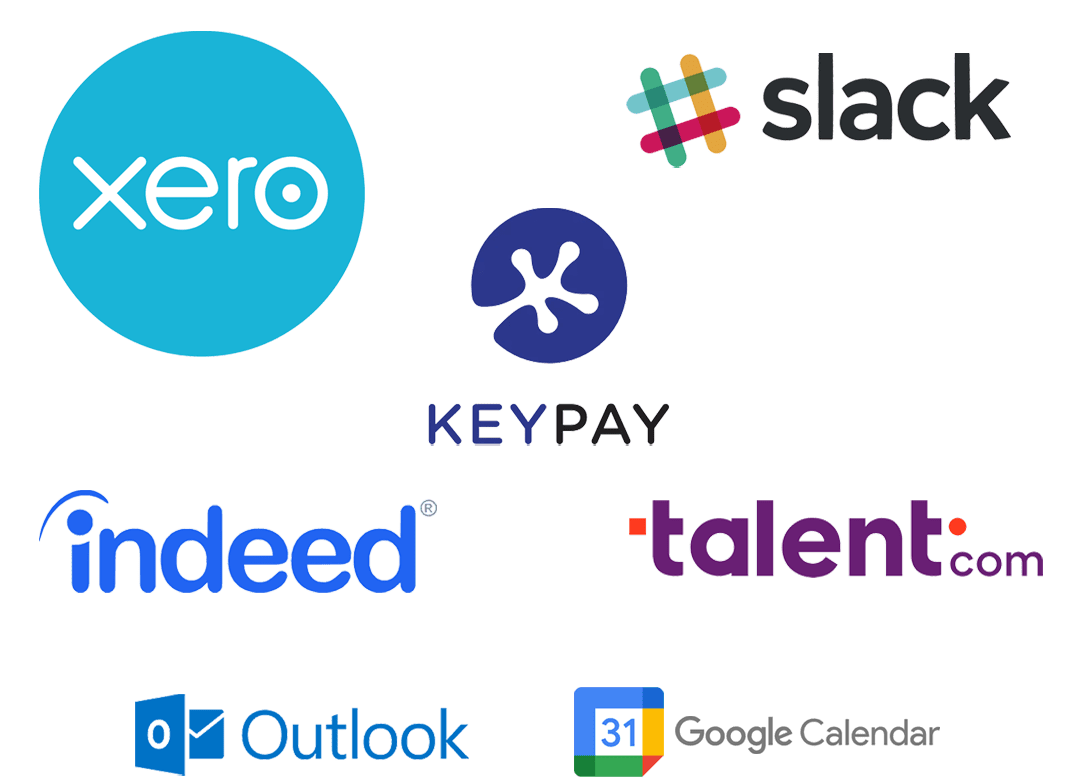 HR Partner integrates with the best tools to further streamline your HR processes.
If you use Xero for payroll, this integration allows you to manage leave in HR Partner and keep leave balances in sync between the two platforms
Import your employees directly from KeyPay
Use the Slack integration to get real-time HR data, directly from Slack
Publish your job positions published directly to Indeed and Talent.com
See your HR calendar information (such as leave, birthdays or job interviews) in Google Calendar or Outlook
More integrations coming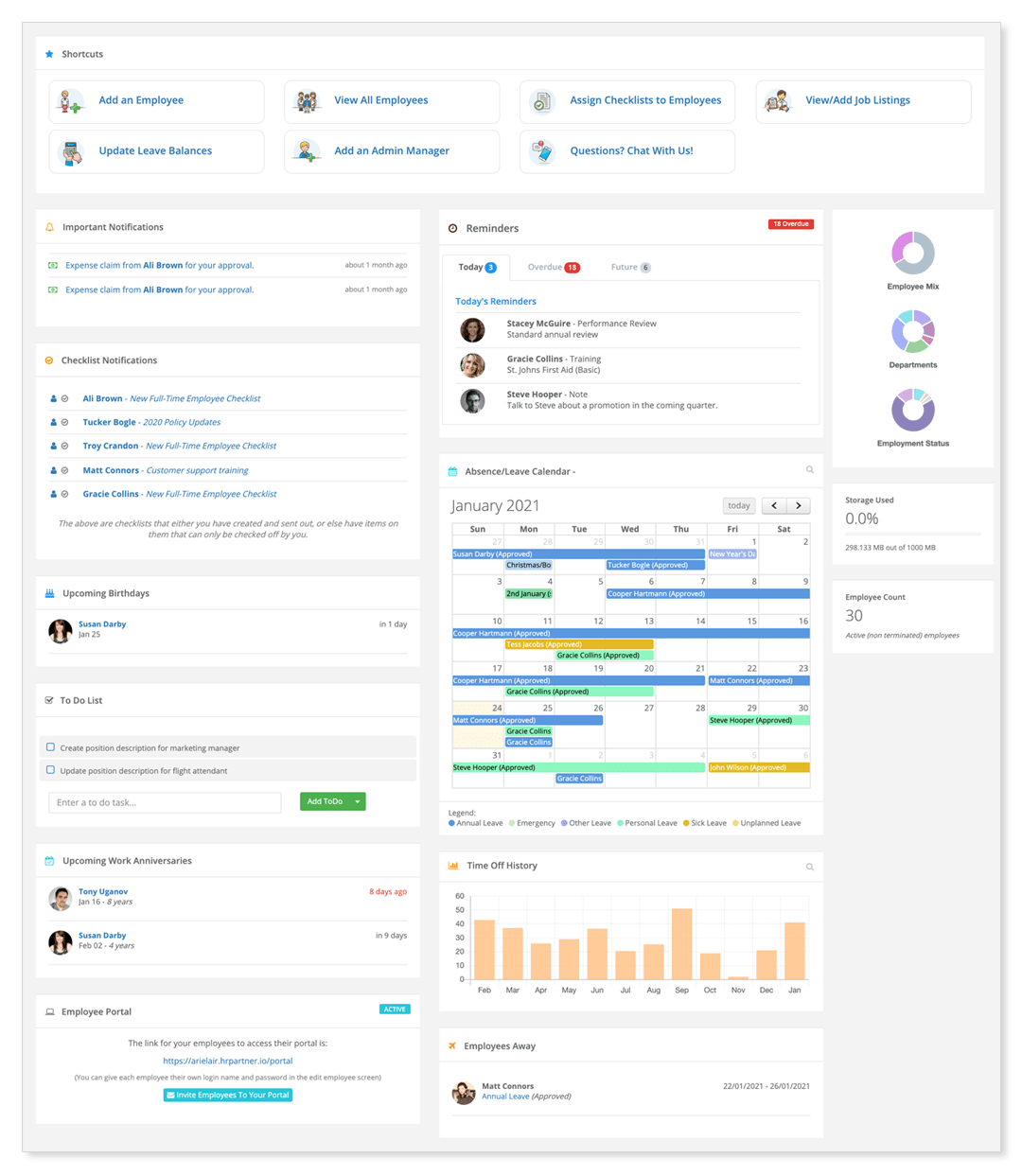 Hundreds more features to streamline your HR processes
Timesheets allow employees to enter their hours worked via the Employee Portal
The organizational chart and company calendar let everyone know what's happening
Team communication has never been easier
Give employees access to the documents they need in the Document Library
HR reports for printing or exporting
Flexible user permissions, complete data security, support you can rely on, and more
Start Now: Special Offer
START A FREE TRIAL IN TO GET 50% OFF FOR 6 MONTHS