An HR Partner Customer Story...
Kurt Duncan - CallCenterUSA
"Everything runs smoothly from when employees are hired, to when they leave."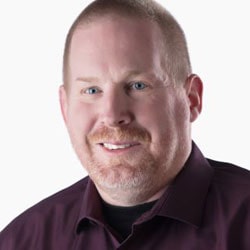 Running a growing call centre with 250 people inevitably means relatively high staff turnover, so a robust HR system is one of the key tools CallCenterUSA needs to run effectively. Years ago, Director of Operations, Kurt Duncan, had found Staff Files - a Windows-based program they liked using. It provided a simple way to keep employee records, track notes, manage leave and other things. But the problem was it was network-based - which became less and less convenient for a company operating between three separate offices. Then, the software company stopped providing support and there were no more upgrades - so as other technology systems were updated, this started causing big problems and a lot of frustration. Kurt realized he needed to find a newer, online system for managing HR functions.
Kurt conducted an "exhaustive search" and says he tripped over HR Partner and started a free trial. Interestingly, he says that HR Partner was the only one to reply to questions he had and the responsive support was something that gave him confidence in making the switch. "I submitted a ticket and I was shocked to receive a response within an hour - and this happened every time." He admits he was nervous about changing to cloud-based HR software, but says he "felt confident that we would be looked after." He also liked that HR Partner was very simple to use but still included everything he needed for a relatively small business.
The initial goal when moving to an online HR system was to stop storing documents - both physically and on in-house computers. They also wanted something separate from their payroll system to give more flexibility in the future. They didn't want to feel "locked in" to any system where, "if we left, we would lose all of our employee records". Kurt was happy to find that HR Parter is agnostic and allows for data exports at any time. "We established trust - and knew that we wouldn't have any issues getting data back."
Once he started with HR Partner, Kurt found it "very easy to use, easy to setup, and we liked that we were able to turn off certain sections, so we could make it work without having to use everything at once."
CallCenterUSA has now been using HR Partner for over a year and uses it for employment records, onboarding checklists, the company document library, and recruitment. Managers use the notes sections extensively for keeping records of conversations and interactions with staff. They also track all hiring records, assets allocated to employees, and performance reviews. Any paper documents are immediately scanned and saved to the employee's record, keeping everything in one place.
"We're as paperless as we can be. Once we scan and enter something into HR Partner, we shred it. We love that we don't have to worry about backups!"
Kurt has used HR Partner to create onboarding and offboarding checklists which saves lots of time and ensure nothing is forgotten. Using these processes means that new employees get all the information they need and their access is set up quickly. And on the other hand, when employees leave, the company knows that they have cancelled their access to everything and have everything returned. Kurt says; "Everything runs smoothly from when employees are hired, to when they leave."
For the first few months, Kurt's team was using a separate, more manual system for recruiting - which was quite laborious given they generally recruit 40-50 people each month! Once they started using HR Partner for recruiting, he was surprised at the efficiencies it introduced. The recruiting team loves the integration with Indeed (the job board) and uses the applicant scorecards to help them make better hiring decisions. Kurt also told us that the custom application forms make it easier to weed out the autobots (job applications that are submitted automatically).
"HR Partner makes our HR run a lot smoother. There are no disjointed processes and everything is documented. Before, we had documents in multiple places and some things weren't being tracked properly. If your systems are disorganized, it leaves room for people to take advantage of that. HR Partner allowed us to clean up our HR mess!"
Kurt went on to say;
"But the biggest benefit of using HR Partner is the time it saves. The recruiting module alone saves us 2-4 hours a day!"