Employee Leave Tracking Without Spreadsheets.
Imagine being able to easily approve pending employee holiday requests, see who is on leave, and generate absence reports in seconds.
This means that you can give your employees the tools they need to submit holiday requests to managers and/or HR. Plus, they can check leave balances at any time.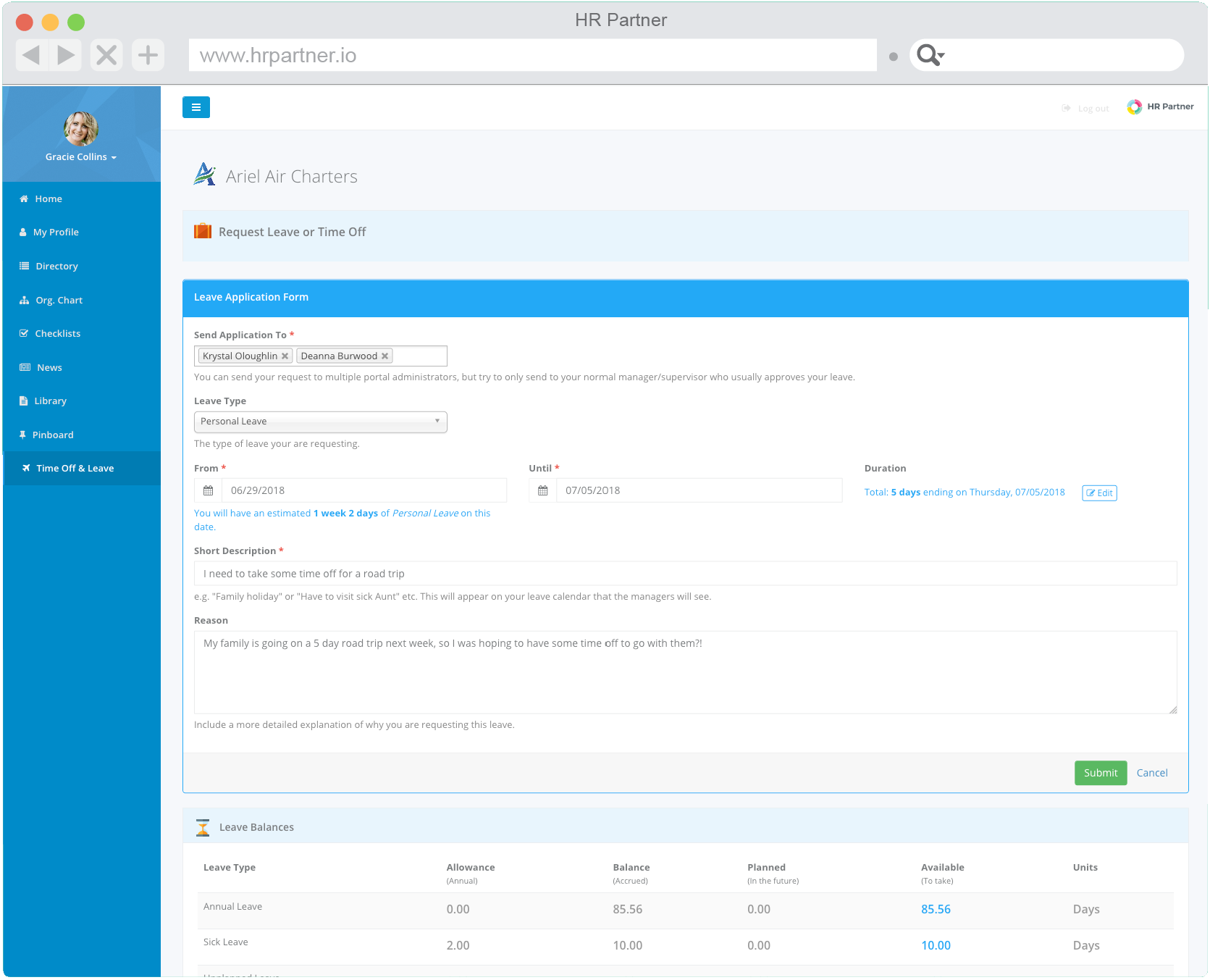 Easy-to-use Holiday Management System for Employees
Like any other company-wide tool that is utilized by both management and staff, it is more important than ever that your holiday management system be user-friendly and simple to use.
With HR Partner, employees can logon from any device to view their current leave balances, submit leave applications, and view the status of their holiday requests with ease.
This makes it a win-win for everyone: Employees don't have to rely on interrupting their workflow or emailing their manager to find the information they need, and managers don't need to go wading through spreadsheets to find information that can be pulled up in seconds with holiday management software.
Software as a Service (SaaS) HR platforms help you store data securely in the cloud.
Here's what a cloud-hosted leave management system can do for your business:
You win back time that used to be spent sending emails, marking calendars, and manually tracking employee leave in spreadsheets. HR Partner tracks everything for you. By managing holiday in the cloud, your employees can view their leave balances and submit time off requests to their manager(s) in seconds — and it's automatically tracked without the need for extra effort or time-consuming double entry.
You can sync with Google Calendar or Outlook. Google Calendar and Outlook Calendar integration means that you no longer have to manually add planned employee leave to your calendar (it's all done for you!).
Employee-friendly. Time off management software should be easy for both you and your employees to use. It shouldn't be just user-friendly — it also needs to be easy for employees to learn and adopt, complete with documentation and handy video tutorials.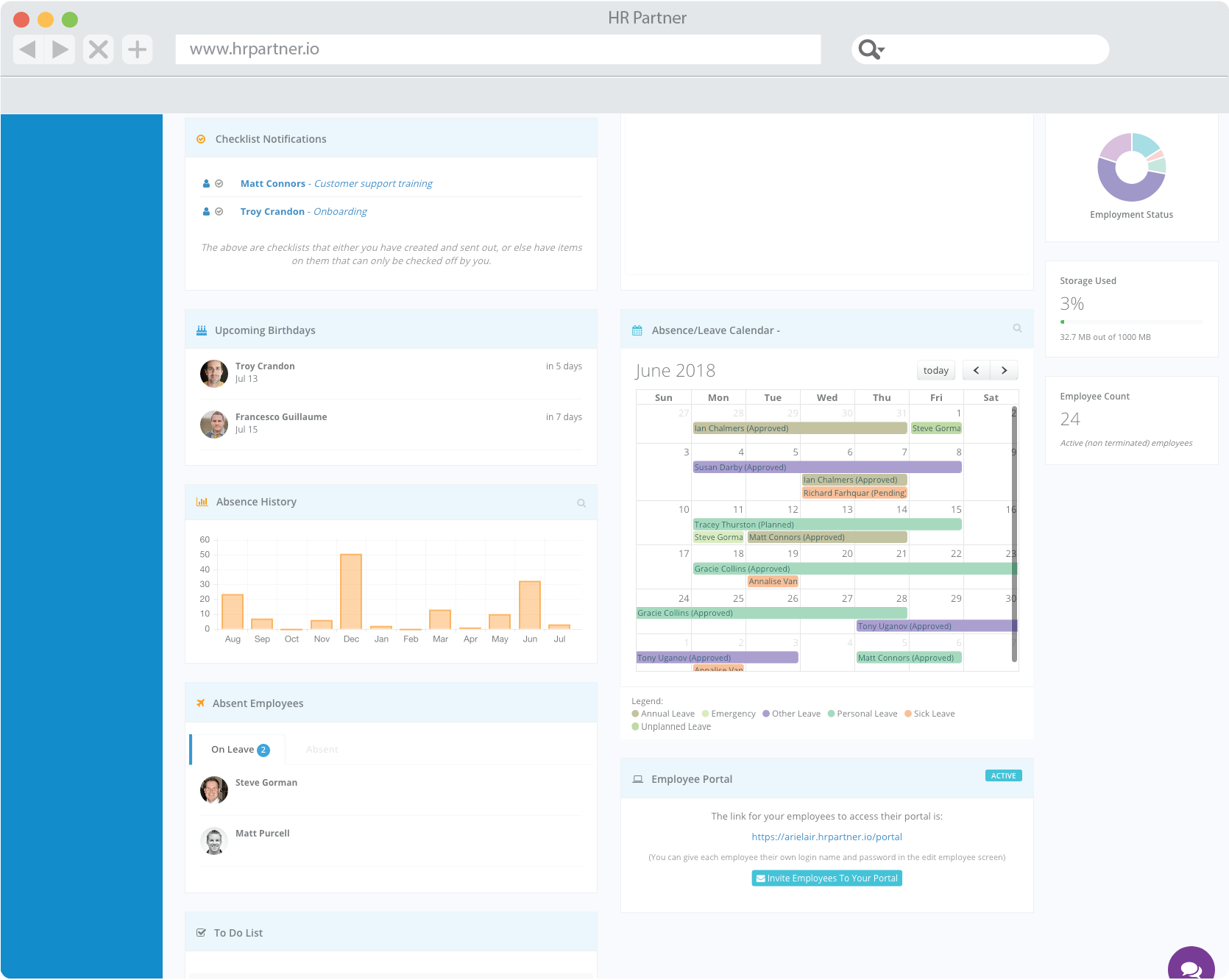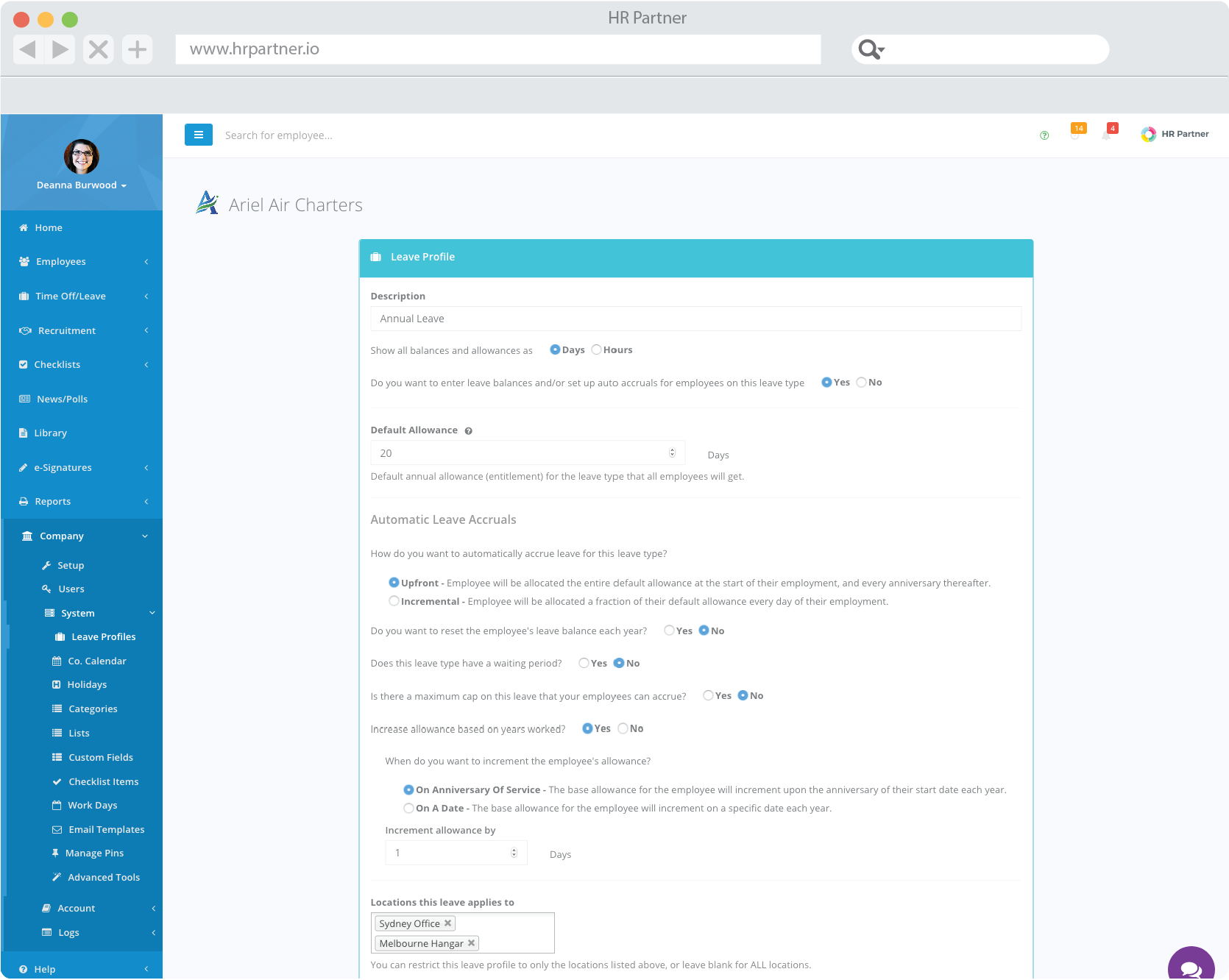 Manage ANY type of Leave
It's crucial that an absence management system be easy to use so that employees are able to learn and adopt the software without interrupting their day-to-day work, which is why we created HR Partner with HR managers and employees in mind. After all, HR software should save you time (not waste time) and be simple to use!
Customize your options and track any leave type: Vacation, sick leave, absences, personal days, plus any other type of time off that you would like to keep track of at your company. If you can think of it, it's possible.
In terms of user and employee experience, our cloud absence management and HR tool is easy to navigate and intuitive.
Your company can invite managers as administrative users of the system and you can easily edit and customize access rights based on their role.
If you choose to use employee self-service, your employees will be able to logon from any device to view their past absences and vacation balances with ease (no more long email threads or digging through spreadsheets to provide the answers they need). Both managers and employees will have everything they need in one clean, user-friendly dashboard!
Full reporting
In addition to managing absences, this web software allows you to manage employee records, recruit, and generate reports in seconds, winning you back much-needed time. Rather than having to use multiple HR tools to manage different parts of your business processes (many of which don't communicate well together), HR Partner empowers you to manage a broad range of tasks in one easy-to-use tool.
View reports as graphs on screen, or print traditional reports and export them to CSV or JSON format for further analysis in spreadsheets and other tools.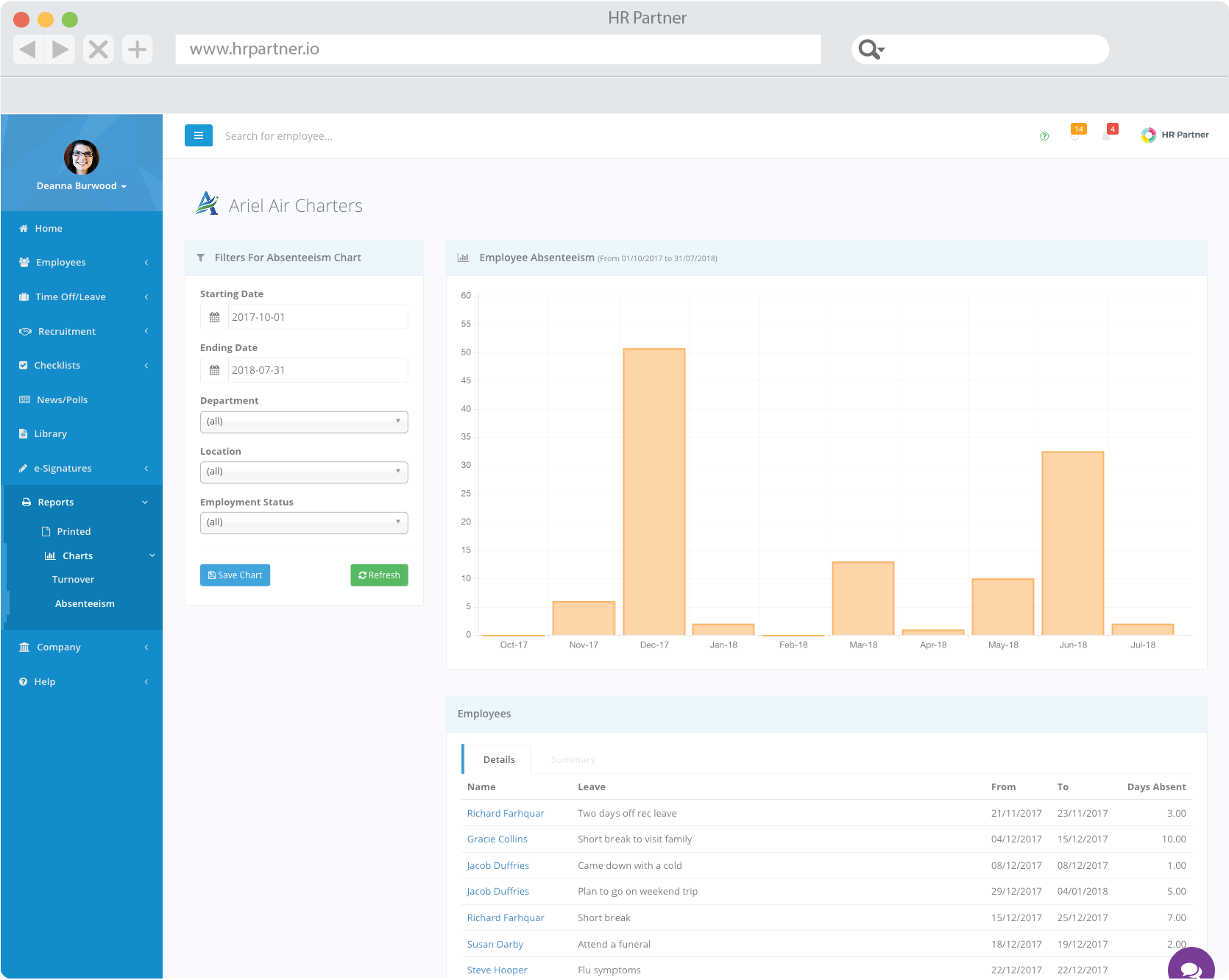 Perks
Saves you from tedious manual work
Easy-to-use & employee-friendly
Who Is This Software For?
Cloud HR software should cover all your bases: Employee record management, time off management, and recruitment. However, it's not just for enterprise companies anymore.
HR managers and business owners of companies of all sizes benefit from the time saved with HR software.
Freeing your company of HR bottlenecks means less time correcting costly long-term mistakes, giving your employees the ability to find the answers they need and automate common tasks like vacation requests, and frees up time for you to focus on what matters.
Find what you need in one central location (and never miss a thing). Streamline your company's HR processes.
Need Help To Get Started?
We understand that leave setups can be tricky, so our team of experts are on standby to assist you to get your setups perfect from the outset.
You can talk to us anytime you need assistance or have a question. We often respond within minutes!
This comes down to helping your employees too - we have plenty of helpful online training videos geared towards getting your staff on board, not just your company HR admins.
We'll even help you out now, before you purchase a subscription! Just click on the floating 'chat' icon on the lower right corner and ask us a question about leave management!
Here is some actual user feedback...

"HR Partner has been a great tool, especially for our PTO tracking processes. It's successfully removed the manual labor in tracking PTO for all our employees, streamlines the PTO request process, and keeps records of everything in one place - all in a user-friendly manner."