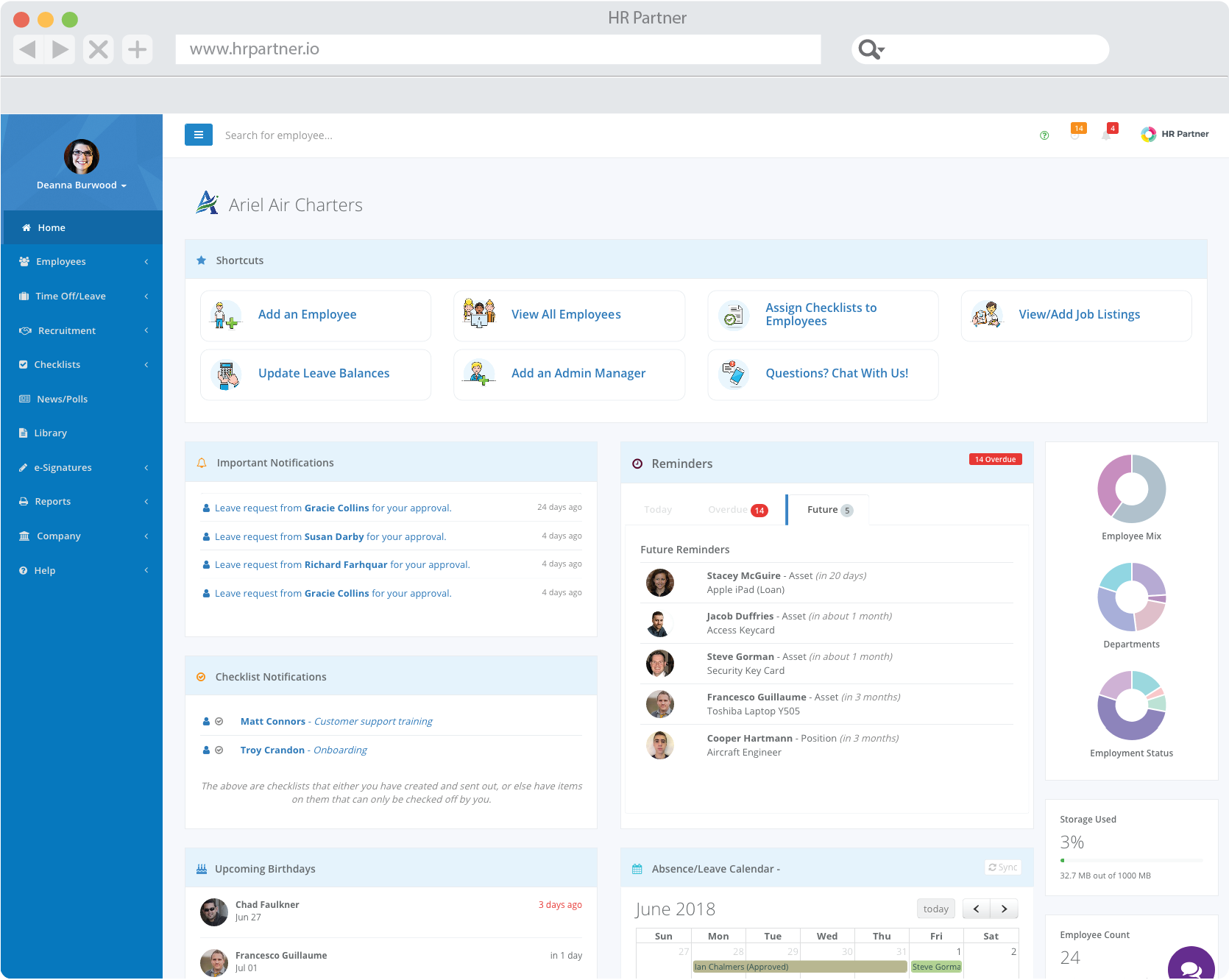 Streamline Your Nonprofit With Cloud HR
When you're working for a busy nonprofit, you don't have time for tedious, error-prone spreadsheets. You're looking for a way to consolidate your company's employee records, time off, and recruitment so that it's all in one place.
That's where HR Partner's cloud HR software for nonprofits comes in — now you can say goodbye to time-consuming spreadsheets and spend more time doing what you're truly passionate about.
Save time in your organisation so that you can focus on what matters.
Easily Manage Employee Records, Time Off & Recruitment
You're busy doing a million things at once, which is why you don't have time to run around looking for employee information in multiple places.
With HR software, you can keep all relevant employee details, vacation and time off balances, and recruitment details all in one place.
If you're looking for employee self-service, you can invite your employees to the system to update their contact information, see who's out of the office, and submit time off requests to their managers.
Invite other company administrators and limit access to specific departments.
Fit for Your Organisation
Whether your nonprofit is local or global, HR Partner can accomodate by giving you the ability to set up multiple locations in the system.
The software is flexible and easy to customize with custom fields, allowing you to set categories and options that are completely unique to your organisation in a matter of minutes.
When it comes to attracting and recruiting top talent to your organisation, we make it easy for you to publish and promote open jobs, collect and review applications through the software, and collaborate with your team until you find the right candidate.
After you make a hire, you can mark them as an employee in the system and their information will be automatically carried over to your employee section. No double entry!
Highlights
No more spreadsheets or paper files
Secure, and mobile friendly
Safe, Cloud based solution
Instant live chat for support
Bonus 20% Discount for Non-Profit and Community organisations:
Talk to us for more details and to get a coupon.